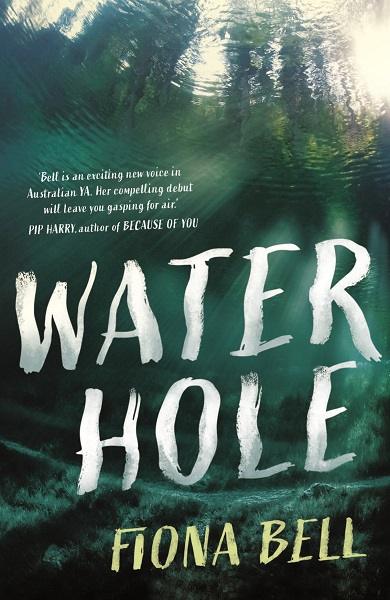 Fiona Bell, Waterhole, University of Queensland Press, 2 April 2018, 296pp., $19.95 (pbk),  ISBN: 9780702259999
Ever since sixteen year-old Sunny Maguire's mother died in a car accident, Sunny has been feeling lost and alone.  She dreads the idea of spending the long summer with her distant stepfather, the person she blames for her mother's death.  But Kevin is the only family she has left, and she has nowhere else to go.  When Sunny learns that a local teenage boy has disappeared, she joins the search along the gorge and at the waterhole – a beautiful pool tainted by a suspicious number of tragic drownings.  And when she sees her mother's ghost, she starts to lose faith in the only person she can rely on.
Waterhole is an arresting coming-of-age tale set against the sun-soaked backdrop of North Queensland.  Bell has crafted a uniquely Australian story that delves deep into our collective emotions, exploring themes of grief and loss; of the complex bonds of family and friendship; of the harsh realities of living in isolation; as well as the often tragic consequences of toxic masculinity and family violence.
The story is written in the first person, letting the narrative unfold from Sunny's point of view.  We instantly sympathise with her plight – having just lost her mother at such a young age, and subsequently having to come to terms with such immense loss, the reader bonds with her and wants to see how things will play out.  We want to make this journey with her, and see that she ends up happy and safe.  The hint that there are supernatural forces at work also helps to pique our interest and keep us turning pages.
Bell writes very evocatively, at times you can almost feel the cloying heat and humidity of Australia's far north thanks to her lavish descriptions of diverse landscapes, whether it be the verdant cool of a tropical waterhole, or the dusty dryness of a country road.  Her characters are strikingly real – and extremely Australian.  At times they seem to leap off the page, and I'm certain that they will resonate very strongly with a wider Australian audience.
Waterhole is Bell's first novel, and with it she has distinguished herself as a new talent of unquestioned potential.
Teachers' Notes can be found on the UQP website.
Reviewed by Christian Price