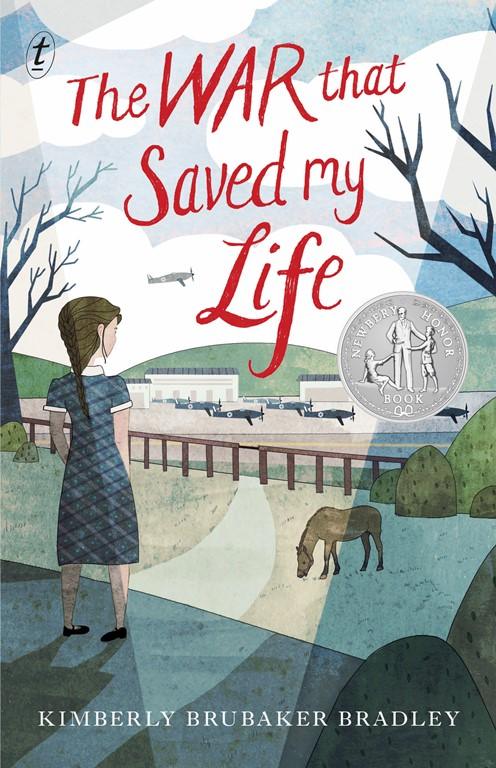 Kimberly Brubaker Bradley,  The War That Saved My Life,  Text Publishing,  16 May 2016, 316pp.,  $16.99 (pbk),  ISBN: 9781925355642
The War That Saved My Life is an interesting book about the experiences of a young girl living in England just before and during the early days of World War II. Unlike most novels about this era, it does not end with peace time, which meant that the story ended with a feeling of 'more to come'.
Ada lives firstly with her little brother and her abusive mother in London and she then moves to Kent with her brother when children were evacuated to the country side.  The characters in The War That Saved My Life are complex. Ada's mother hates her because she was born with a club foot and keeps her more or less imprisoned in the house. The ill treatment makes Ada suspicious of other people. Susan, the lady who is forced to take the two children, has depression because her friend Becky has died. There is the suggestion that Susan was in love with Becky.
There is also historical information included about these times; such as the war work women undertook, schooling arrangements for children and the arrival of injured Dunkirk soldiers in Kent and how the people cared for them.
I only had one criticism of The War That Saved My Life – a plausibility problem with Ada's speech. If Ada was locked away in her house, was unable to go to school, and the only people she heard and talked to were her mother and her little brother, her spoken language would not have been as complex as it was. It would have been more believable if she spoke in simple sentences, perhaps only in the present or past tense, at least in the beginning of the story.
The War That Saved My Life is New York Times bestseller, a Newbery Honor Book, winner of the Schneider Family Book Award (Middle School) and winner of the Josette Frank Award.
There is an educator's guide for the book on the Penguin US website and teaching notes for the Australian curriculum on the Text Publishing website
The War That Saved My Life is suitable for children aged 10 and over.
Reviewed by Katy Gerner