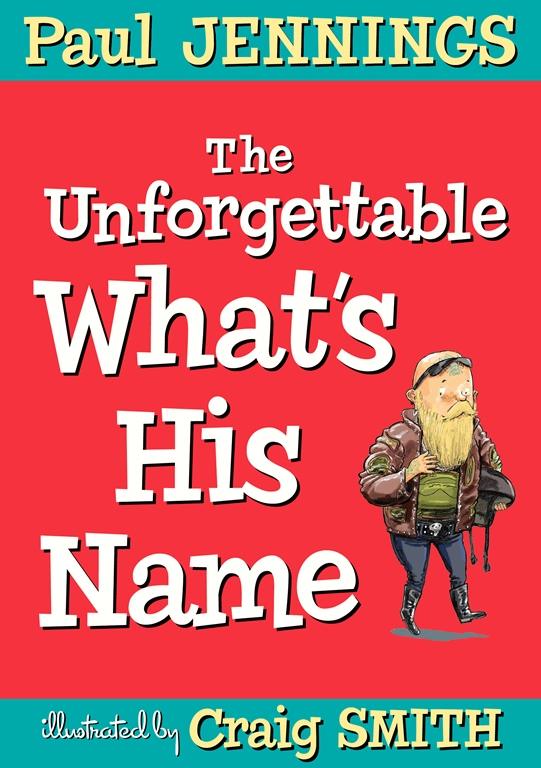 Paul Jennings (text), Craig Smith (illus.),  The Unforgettable What's His Name,  Allen & Unwin,  Nov 2016,  224pp.,  $14.99 (pbk),  ISBN: 9781760290856
What's His Name is shy. He doesn't like to be noticed. The problem is, this means he doesn't have any friends and feels very lonely. His mother worries about him, but her attempts to find him a friend are disastrous. Then over the course of two crazy days, everything changes. What's His Name's social anxiety leads him to take on a strange new ability – he begins to be able to blend into his environment like a chameleon, hiding against walls and posters, perfectly camouflaged. But it doesn't stop there. By the second day he is able to become a perfect copy of anything nearby, whether it's a stuffed bear or a scary biker. And he has good reason to want to hide, because he accidentally knocked over a row of bikes and is now being chased across town by those bikers. Or so he thinks…
The Unforgettable What's His Name is a wonderful book. It's full of non-stop action, as What's His Name flees the pursuing bikers whilst trying to come to terms with his strange new abilities. Each character stands out, from Banana Boy the monkey to Maggot the bikie. Craig Smith's vibrant, full page colour pictures in every chapter hilariously bring to life the unending predicaments What's His Name faces. The illustrations have the added bonus of being something of a 'search and find', as readers try to work out where he's gone amidst the chaos. But what makes this book stand out is that underneath the humour and action, it is a truthful and poignant depiction of a lonely boy without a father who experiences regular anxiety attacks and who wants things to be different but doesn't know how to change them.
This book, targeted at middle primary age kids, is an absolute gem, addressing mental health issues in such a pro-active way whilst also being an engaging, funny story.  The anxiety attacks are well described, and made manageable for young readers by being linked to the strange transformations What's His Name undergoes. Gradually he learns to take control of his reaction by realising he can, and by teaching himself how to relax during his panic attacks.
This is essentially a story about a boy looking for somewhere to belong. It is full of heart without becoming overly sentimental. It's also about facing your fears and finding ways to deal with them. Beautifully written and illustrated with engaging characters and a great story, this is a must-have book. And no spoilers here, but What's His Name's name is revealed at the end.
Reviewed by Rachel Le Rossignol