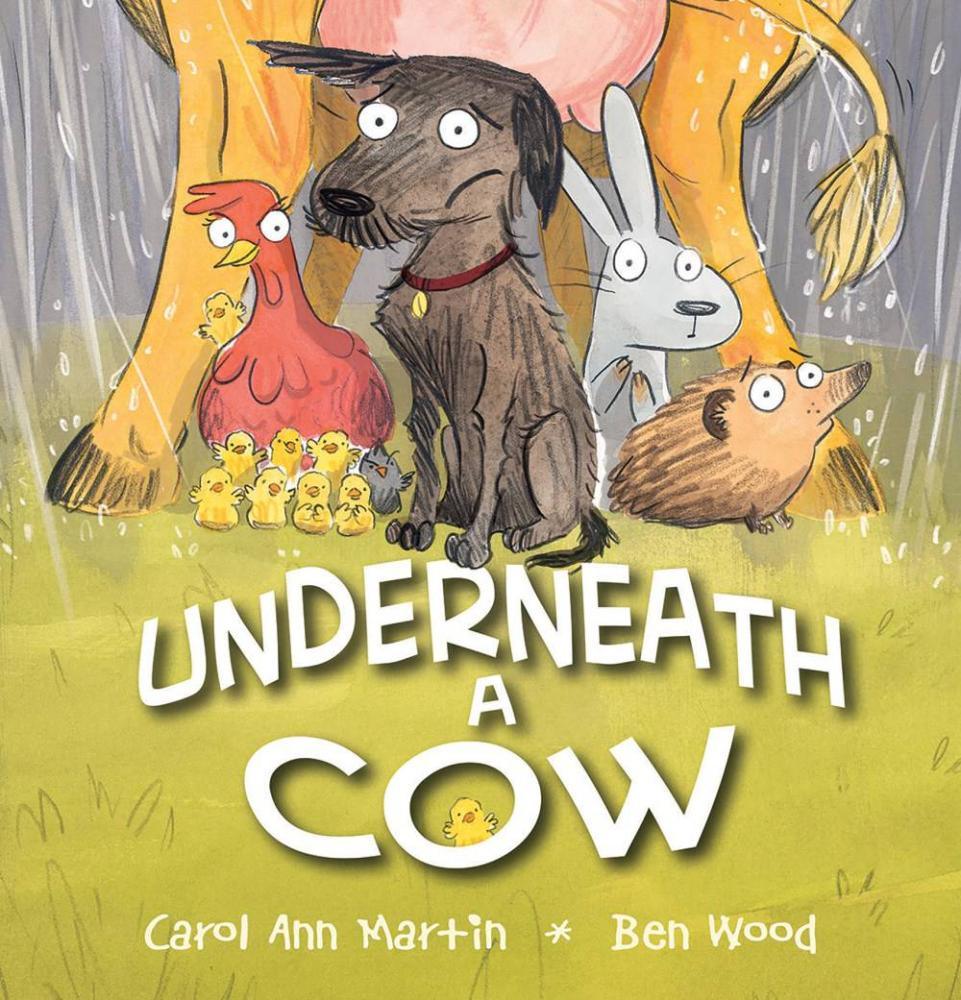 Carol Ann Martin (text) Ben Wood (illus.). Underneath a Cow. Omnibus/Scholastic.  1 August 2015. 32pp.,  $24.99 (hbk)  ISBN: 9781742990880. 
The plot of this story is quite succinct: Madge the cow is out in the paddock chewing her cud and a variety of animals are caught far from home when the Great Big, Terrible, Awful Storm hits…
However, this masterly combination of slyly amusing text and lively, character-filled illustrations has resulted in a perfect demonstration of how to make a very slight "what if" idea into an utterly delightful picture book. Each animal is true to its nature – hassled hen and scatty chicks, purposeful dog, scared rabbit and grumpy echidna all find shelter beneath brave, warm and sturdy Madge.  Her encouraging words draw this ill-assorted bunch together to face the unexpected danger with courage and verve.  The tale encourages readers to predict what might happen next, while Madge's gentle comments are wonderfully humorous for adult readers, just as the insightful illustrations will engage little ones.
Highly recommended for early childhood readers for its demonstration of cooperative courage in the face of diversity, and reassuring messages of calm common-sense and love from Madge. Contentedly chewing some delicious wet grass, she muses "it is good to be in a safe place, but sometimes we have to be a safe place". What a great message for children, and how lovely it would be if only we could all find such safety and reassurance against life's troubles, underneath a cow!
reviewed by Chloe Mauger