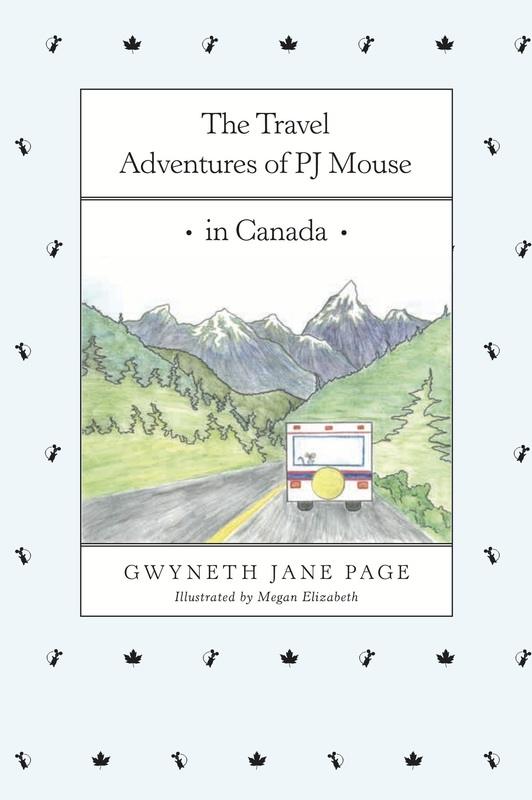 Gwyneth Jane Page (text),  Megan Elizabeth (illus.), The Travel Adventures of PJ Mouse in Canada (PJ Mouse #1),  First Choice Books,  28 April 2017,  70pp.,  $15.00 (pbk),  ISBN: 9780993816192
Gwyneth Jane Page (text),  Megan Elizabeth (illus.), The Travel Adventures of PJ Mouse in New Zealand (PJ Mouse #4),  First Choice Books,  14 Feb 2017,  66pp.,  $15.00 (pbk),  ISBN: 9780993816147
PJ Mouse is quite the adventurer, although he is actually very timid. In the first book, he is found by Emily whilst being soaked in a rainstorm. Her mother washes and dries him, and from that point forward he travels with Emily's family as they explore Canada, Queensland, England and New Zealand (so far).
Thanks to the contributions of Emily's know-it-all sister Rebecca there is plenty of factual information included in the books about the places they are visiting, but the stories really come to life when PJ gets caught up, as he frequently does, in unpredictable incidents at the various locations, such as falling down inside a glacier in the Canadian Rockies or having an accidental bath in a pool of bubbling mud in New Zealand's Rotorua. With some courage and the help of his family and other friends he makes along the way, he always comes out of these predicaments safely.  Emily's family are nicely characterised, with the usual sibling squabbles, whilst clear, simple descriptions let the reader experience the various interesting locales.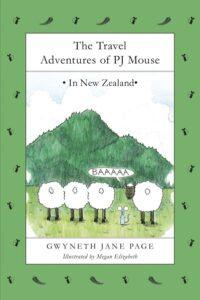 PJ is covered in blue and white stripes, like pyjamas, and has enormous ears, so he is a very distinctive and endearing character. Each book is illustrated throughout with colourful pencil drawings on almost every page, whilst at times PJ's words are rendered in a simple, child-like font, so there is interesting variety and strong visual appeal throughout. Some of the best illustrations grow from PJ's very active imagination, such as when he wonders what would happen if Emily dropped bubble mix into Niagara Falls, or thinks that the salt lake's salt has magical properties that could make food float in the air.
PJ tends to think and react like a younger child, so that Emily often tells him he is a "funny little mouse". His willingness to continue his adventures even when frightened or anxious offers a good model of behaviour for children facing their own new experiences. At times the language in the stories is more suitable for older readers (mid to upper primary) but PJ will definitely appeal to younger ones, so these would be good books to read with children, to allow opportunities for questions and explanations. Each book contains a simple map at the end showing the locations visited during the story. There is also an accompanying website, which the books say offer 'more fun with PJ', but aside from a few photos of PJ at different locations it mainly contains author and book purchasing information rather than additional material for readers. Readers may love the option to purchase PJ Mouse as a toy, as well as his passport and stickers from the various locations he visits.
Reviewed by Rachel Le Rossignol