Simon Higgins, The Forest of the Night (Tomodachi #2), Eagle Books March 2019, 211 pp., RRP $19.99 (pbk), ISBN 9780994528087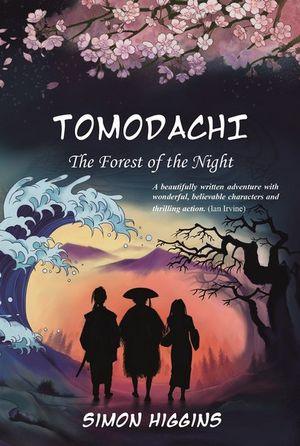 Simon Higgins, a former police office and private investigator specializing in murder cases, and one of the world's best martial artists (in the sword art of Iaido), is as it happens also a novelist of meticulous and respectful detail. His new novel is set in a fanciful historical Japan, and it comes with a long glossary at the end which introduces readers to many terms that are important to Japan's history, its culture and the popularization of art forms such as Manga and Anime.
'Tomodachi' means 'friends', and the novel revolves around the exploits and journey of three friends. One of them, Daniel Marlowe, a noble-born citizen of the court of Henry the Eight's Tudor England, is a survivor from a shipwreck; another is a young woman, Otsu-san whose only possession in the world is a doll that has been inhabited by Chiyo, a small god who can answer most questions mortals need to ask about the coming future and present dangers. The third member of this wandering group is Kenji-san, a samurai warrior of great skill, intelligence and wisdom.
The forest of the night is filling with dangerous ghosts and demons, and the friends find themselves skirting this forest while encountering its evil in various forms. There is much detail throughout the novel regarding Japanese culture, beliefs and practices regarding death, home life, the values of being a warrior, love, food, good and evil.
Daniel Marlowe's status as an outsider (though he can speak Japanese) offers opportunities for explaining many cultural nuances. David Marlowe's quest is to find his father, lost in the moment of the shipwreck, and help him achieve his mission to meet the Emperor. Kenji's mission is to find his father and avenge his betrayed clan. Otsu must struggle with the question of balancing obligations against a new friendship.
At the centre of the novel there is, as you might expect, a murder investigation; and along with this many careful descriptions of samurai sword fighting, including battles with demons. This is a novel that will take you deep into another world.
Recommended for readers from eleven to sixteen years.
Reviewed by Kevin Brophy