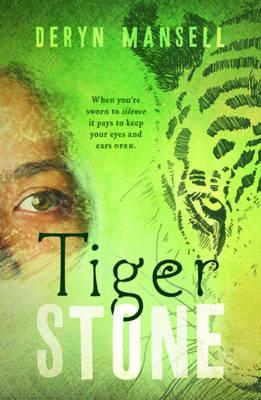 MANSELL, Deryn Tiger Stone Black Dog, 2014 262pp $16.95 pbk ISBN 9781742032399 SCIS 1671955
In the year 1357 in Java, young Kancil and her mother flee persecution in their village after Kancil's father and brother are suspected of treachery.  They trek across the country from the Kingdom of Sunda to the neighbouring Kingdom of Majapahit where they seek refuge in her uncle's house.  When they arrive Kancil must hide her Sunda origins as people from there are mistrusted.  She pretends to be mute and is given a job as the lowliest kitchen servant in her uncle's household.  Her muteness and strange teak-coloured 'tiger eyes' make her an outsider, but she is befriended by the impish and deformed Kitchen Boy whose scarred body is believed to provide protection to the household from tigers.  Together they discover a plot by bandits, who are pretending to be royalty, to steal from the villagers and send them to their deaths.  Using their wits they foil the plan and Kancil is rewarded with a Tiger Stone necklace that gives her mystical powers and allows her to find her missing brother.  This main tale is bookended with the story of Aryani in contemporary Java.  She is a descendent of Kancil who shares the same unusual eye colouring and when she inherits the Tiger Stone necklace the power is again unlocked.
Deryn Mansell's first novel moves at a good pace and reveals her love of Indonesian history, culture and language.  While the sprinkling of Indonesian words may deter some readers, there is a glossary included as well as a map, lists of places and characters and brief historical notes all of which make this historical fiction very accessible.  Tiger Stone is a harmonious blend of mystery, adventure and the supernatural which skillfully introduces the lower to middle secondary school reader to a fascinating, if little known, time, place and culture.
Classroom ideas are available on the publisher's website.
reviewed by John Nolan