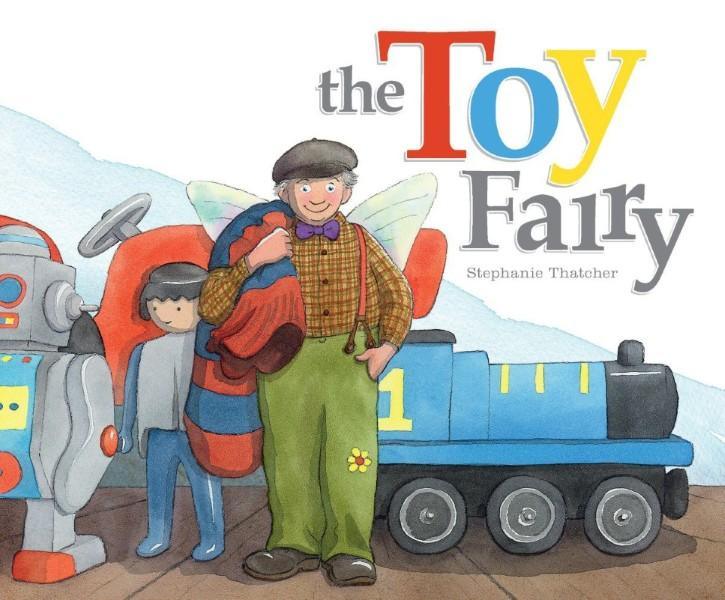 Stephanie Thatcher,  The Toy Fairy,  Starfish Bay, 1 May 2015,  32pp.,  $14.99 (pbk),  ISBN 9780994100733 (hbk) 9780994100726 (pbk)
Encouraging empathy and graciousness in children is a challenging, yet important concept. This book, using the Toy Fairy as an adaptation of the mythical Tooth Fairy, takes the reader on a journey of discovery into what life might be like for others.
The reference to the Tooth Fairy gives a familiar abstract in which to approach this picture book.  The Toy Fairy, like the Tooth Fairy, is a small, mystical, night visiting character and it is through this character that the narrative is able to convey a thoughtful message of gratitude, guiding the reader to consider consequences of their actions.
In a familiar scene, Joe a young child has neglected to pack away his toys. The watercolour and pencil illustrations lead us to recognise the Toy Fairy as a non-threatening, grandfather type figure compete with braces, bow tie and grey hair tucked under a newsboy cap. When Joe embarks on an unexpected journey with the Toy Fairy he discovers much more than he expected. Along the way, Joe is exposed to an alternate toy-less childhood and in recognising a contrasting situation to his own, he demonstrates compassion for the others and gratitude for his ample, yet humble toy treasures.
Parents and caregivers will empathise with the struggle to have children pack up their toys and keep their rooms tidy.  However, more than just a book about taking responsibility, the author has managed to extend the narrative without losing the main focus of the story. To the reader, the continued story comes as a delightful surprise and assists to conclude the tale in an emotion provoking way.
The illustrator's reference to gender equality within the family home is not lost on us, as we see Joe's Dad depicted wearing an apron and armed with kitchen equipment. The well spaced and well placed text, along with the detailed colour imagery, helps to guide us through this gentle book. Children are kept keenly engaged by the element of magic as well by the numerous small, familiar objects within the book's illustrations.
reviewed by Kerri Bennett