Jo Simmons (text) and Sheena Dempsey (illustrator), The Dodo Made Me Do It, Bloomsbury Publishing, September 2018, 294 pp., RRP: $12.99 (pbk), ISBN: 9781408877777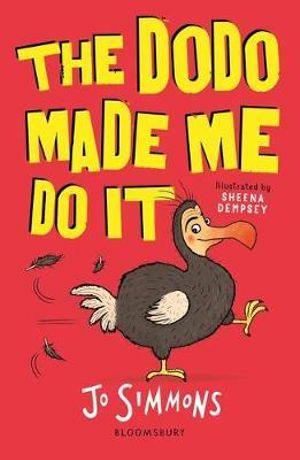 Fast-paced, full of slapstick humour and impossible situations, this lively and highly readable book takes young readers on an enjoyable journey.
Protagonist Danny must reluctantly spend the summer alone with his porridge-making, crossword-solving Granny in Scotland. She lives in a remote town where nothing ever happens and there is no Wi-Fi. With only one other child, Susie, within cooee as a possible companion, things look grim.
Despite his reluctance, and armed with a supply of his favourite taramasalata (a type of Greek dip), Danny manages to find a challenge to enliven his visit. The holiday starts to look more promising when he hears of a shipwreck site on a nearby island. Determined to find treasure and save himself from boredom, despite cautious Susie's protests, Danny ventures out at night to wade at low tide to the island.
Who would have thought that a dodo was hiding there? Sidekick Susie, a science nerd with all the answers, refuses to believe her own eyes. The "rescued" dodo leads Danny through a series of mishaps as Danny discovers that a wild animal is not a biddable pet or humanistic companion. Taramasalata and crackers are also not the best foods for a large bird.
The theme of homesickness is broached with sensitivity and the characters develop along the way. The need to return the dodo to his home reflects Danny's own wish. I particularly like Simmons' use of subtly embedded elements such as porridge and crosswords to further the action and bring Danny to a new understanding and a successful conclusion to the story.
 Luckily Granny is either away doing neighbourly deeds, or absorbed in her crosswords. This provides the supervision-free element so necessary in this type of junior adventure story.
Wee Jimmie is a necessary, if 2-dimensional, villain who is exposed by the children and duly arrested. Dempsey's black and white line drawings appear throughout the well-spaced text, and help kids to visualise the dodo, particularly helpful if they haven't encountered this extinct animal in stories before.
Not quite the Famous Five, not quite Swallow and Amazons, this cartoonish, funny, enjoyable book is nevertheless a winner for children wanting a zany holiday adventure.
 Reviewed by Julie Thorndyke