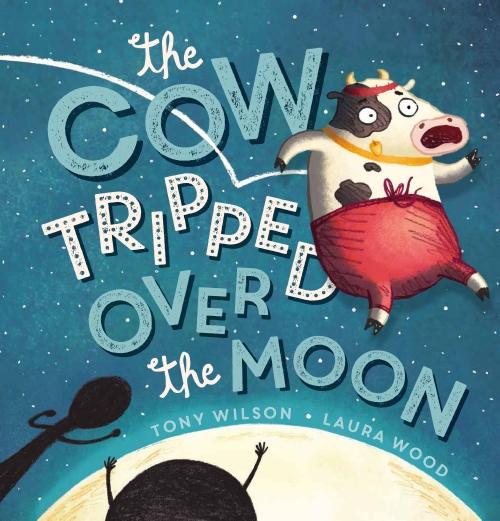 Tony Wilson (text) Laura Wood (illus). The Cow Tripped over the Moon. Scholastic.  1 June 2015. 32 pp. $24.99 (hbk),  ISBN: 9781743623534.
In the well-known nursery rhyme, it is all so simple, the cat played the fiddle and the cow jumped over the moon.  Here, however, we see the true story of the determined cow and her multiple attempts to make that famous mighty leap for "it seems a moon clearance takes great perseverance". After some rigorous training supported by her friends, during the hours of one moonlit night we see the various disastrous failed attempts until the last triumphant effort as the sun rises.
The witty rhyming text in the original metre is enlivened by vignettes of all involved in the seemingly impossible task, while the timed lift-off-scenes throughout the night are spread across double pages to give scope for each flight-path.  Text and illustrations work harmoniously in true picture book fashion to enrich, enliven and elaborate on the original simple tale, while applauding the virtues of perseverance and the need for helpful friends.  Great fun for pre-schoolers to listen too – and would make a hilarious lower-primary class Assembly item.
reviewed by Chloe Mauger