Sally Odgers (text), Adele K Thomas (illustrations), The Brave Unicorn (Pearl #5), Scholastic Australia, October 2019, 128 pp., RRP $12.99 (pbk), ISBN 9781760664282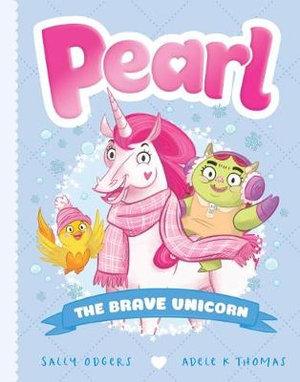 This pretty pink series is just right for reluctant readers or newly minted readers looking to tackle their first chapter book. There are sweet illustrations on every page, with rainbows, butterflies and strawberries and, of course, our heroine, Pearl the unicorn. The pictures are drawn in black and white with bright pops of hot pink and break up the text nicely, while also providing clues to decode the words.
The story is divided into seven short chapters, so readers can tackle one at a time or read a few. The font is large, with key words highlighted in pink. Very reluctant readers may be cajoled to start with just reading the pink words.
Pearl the Unicorn is planning a birthday party for her friend Tweet, the firebird. She uses magic to help with the preparations and her own unicorn version of "abracadabra": variations of "toss-wiggle-flick-wag-prance", which is fun to read aloud and shimmy along with! Her magic doesn't always turn out quite right, but Pearl makes the best of it. Then Olive the ogre goes missing and Pearl and Tweet must work together to find and rescue their friend before the birthday celebrations can continue.
Reviewed by Carissa Mason