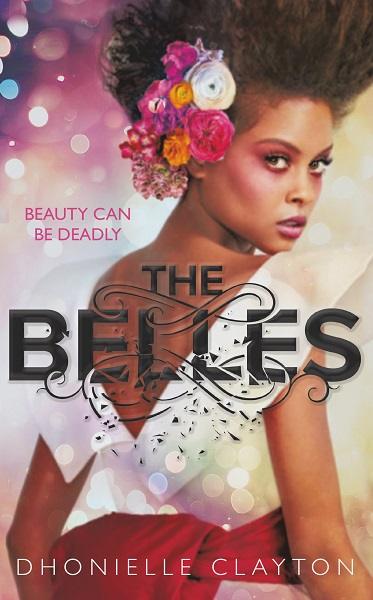 Dhonielle Clayton, The Belles, Hachette Australia, 13 Feb 2018, 448pp.,  $19.99 (pbk),  ISBN: 9781473223967
Clayton's debut solo novel is an original fantasy set in a world where beauty is everything. Her previous published work includes Tiny Pretty Things written in collaboration with Sona Charaipotra.
In The Belles we enter the strange world of Orléans where sixteen-year-old Camillia is a Belle, one of the six girls who are the current generation of those who can manipulate beauty in humans. They alone possess the power, the arcana, which allows them to alter appearance for those who can afford it. The Belles are the only ones born beautiful, everyone else is born grey and ugly 'with skin the color of a sunless sky, eyes the shade of blood, hair the texture of rotten straw' (preamble). She lives in a luxurious world obsessed by fashions and fads in externals – hair, face, body shape, dress, everything.
Camillia is delighted to accept the position of Favorite to the royal court after the initial winner, her sister Amber, is disgraced. Life is not as pleasant as she had hoped. The heir to the throne, Princess Charlotte, is in a mysterious coma, the queen is dying and the daughter who will be regent, Princess Sophia is a manipulative despot. She is forbidden to make friends with men but she is intrigued by the charming Auguste, one of the Sophia's suitors. And then there is her personal guard, the taciturn and rigid Remy who alternates between being infuriating and genuinely friendly. Camillia tries to make sense of all the mysteries and machinations that are an integral part of court life and to decide where here loyalties lie. In order to do that she needs to find out who her true friends are.
Gradually we learn more about this world of Orléans. Clayton revels in describing everything in great detail and everything is beautiful. This can and does clog up the pace of the story. The pervasive obsession with beauty of appearance while accepting dreadful behaviour  is never questioned or examined in any significant way although in a note to the reader at the end of the book Clayton reveals her hope that this book 'pushes us to talk about the commodification of women's body parts and the media messages we send young people about the value of their exterior selves, what is considered beautiful, and the forces causing those things to shift into disgusting shapes' (unpaged).
Readers may enjoy the wealth of detail and colourful characters in this carefully created world of beauty. It ends without a resolution so a sequel where we find out more of Camille's emotional journey is possible.
Reviewed by Mia Macrossan