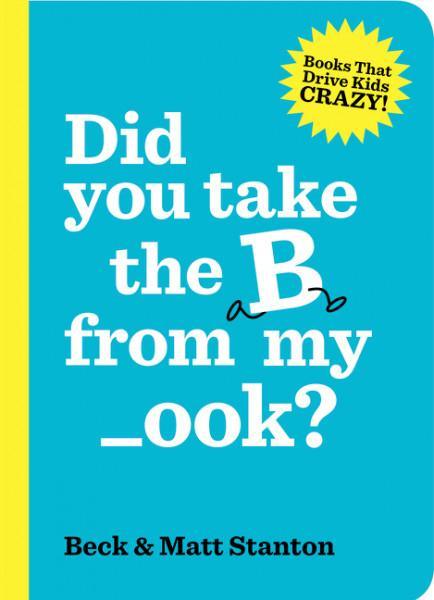 Beck and Matt Stanton,  Did You Take the B from My _ook? (Books That Drive Kids CRAZY! #2), ABC Books/HarperCollins, 4 Jan 2016, 32pp., $19.99 (hbk.), ISBN 9780733334832
It seems only fair that this review should be written in the spirit of Beck and Matt Stanton's Did You Take the B from My _ook?—that is, it should largely dispense with the use of the letter 'b'. So, here goes…
The narrator of the Stantons' _ook thinks that the _est letter in the alpha_et falls neatly _etween the letters 'a' and 'c'. Unfortunately for the narrator, this letter goes missing when a sensationally serious sneeze _lasts the favourite consonant from the page. Happily, a desperate plea sees the vanquished letter return on the _ook's final page.
In _etween the sneezy _eginning and the cheery ending, the story _ounces past pictures of _eds and _ulls, _eetles and _utterflies, and _alls and _oots—all of which appear remarkably content despite the flight of their initial letter.
Did You Take the B from My _ook? is _ound in a sturdy cover with gently rounded corners. The left hand side of the _ook's two-page spreads uses _right _lock colours with the text superimposed in white; the right hand pages feature simple drawings of the story's 'b' words (_ed, _ull, etc.), _oldly outlined in _lack.
This _ook offers plenty of read-aloud fun. There is an on-going conversation _etween narrator and audience, and young children are invited to help the storyteller _ring _ack the missing letter. If they shout 'Come back' very loudly, B just might return. 'Bravo! Brilliant!'—B beams back on the very last page, firmly fixed in place … until the next sensationally serious sneeze. (Maybe the letter 's' will disappear when the book is read again. In the meantime, perhaps children could create their own missing-letter _tory.)  For ages 3+.  Highly recommended
Reviewed by Tessa Wooldridge