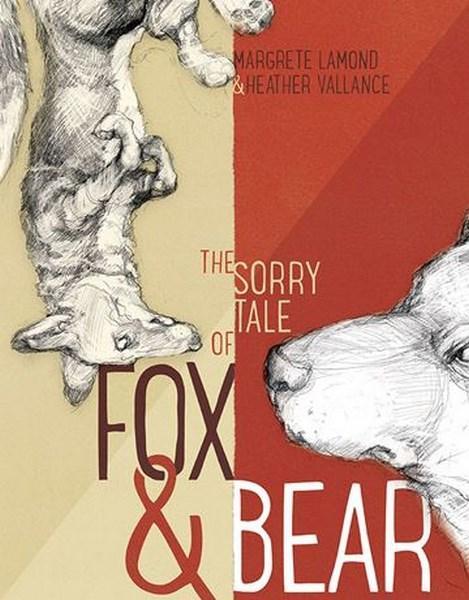 Margrete Lamond (text),  Heather Valance (illus.),  The Sorry Tale of Fox & Bear, Dirt Lane Press,  1 July 2017,  72pp.,  $29.99 (hbk),  ISBN: 9780648023807
'Long ago, far from everywhere, someone once found a letter stuffed into a hollow log. It was a letter of pain and love and anger and regret. It was a letter to a friend.'
And so begins The Sorry Tale of Fox & Bear. Through five short chapters the friendship of sly Fox and not-so-smart Bear is stretched and snapped and maybe tied back together. This book illustrates a dark side of friendship and highlights its confusion, pain and unexpected trials.
The moment I picked up this large hard back book, I loved the weight, the feel and the look of it. The title and the black and white pencil sketches give it an immediate sombre feeling so I suspected it was not going to be a happy tale. And it isn't a happy tale, nor does it have a clear resolution, but it uniquely and brilliantly illustrates how complex, slippery and confusing friendship can be in a way that kids will grasp.
In the classroom this book can be used in so many ways. It can be used as a tool to analyse friendship—Bear and Fox aren't always kind to each other, they both behave badly, yet Bear still yearns for Fox's friendship. Also, because the language is rich and sophisticated, while also being accessible to young children, it's a good illustration of how small stories can make up a bigger one. Finally, the fact that it moves through past and present tense and includes lots of dialogue, which makes it a good teaching tool for young writers.
Although the book raises more questions than it answers—What makes a good friend? What kinds of things can make the 'string of friendship' snap? Can the string ever be mended? What role can others play?—I loved this ambiguity because it leaves a lot of space for thought and creates deep feelings as it explores the darker more confusing sides of friendship. The book also finishes with this open ended question, 'And I can tell, by the way you're laughing like a yawn, that you know what happens next … don't you, Fox?, which I love because it allows for discussion around the future. Will Bear and Fox become friends again? Should they? Will either of them change?
The language throughout is beautifully crafted and purposeful. It ebbs and flows and Bear's voice is strong and compelling. Heather Vallance's raw, pencil sketches are full of movement and enhance the slightly dark feel of the book. They also give it a timeless feel and are the perfect choice for this story.
The Sorry Tale of Fox & Bear is a thoughtful, compelling story that has the feel of a timeless fable and one I would recommend for the classroom or for a child struggling with friendship issues.
Reviewed by Renee Mihulka