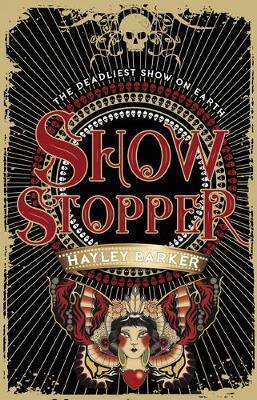 Hayley Barker, Show Stopper, Scholastic Australia, 1 Oct 2017, 400pp., $16.99 (pbk),  ISBN: 9781407179674
In a dystopian London in the not-too-distant future, society is divided into Dregs and Pures. Ben is the son of a prominent Pure politician. His life is one of privilege. Hoshiko is a tightrope walker in the deadliest circus on Earth. Like the other starving, worthless Dreg children who are sometimes stolen, sometimes sold to the circus in exchange for food, Hoshiko has one purpose in life – to be entertainment for Pures. When Hoshiko is almost killed during a performance, Ben makes a spilt-second decision to save her. His actions will tear their worlds apart.
Billed as The Hunger Games meets The Night Circus, Show Stopper by Haley Barker entraps the reader on the first page. The Cirque may be entertainment for the Pures but it is regularly torture and death for the Dregs. Violent and shocking at times, Show Stopper is told in dual point of view. The story alternates between slow and repetitive, and fast-paced and exciting. There is not much hope for a positive ending. How can Ben and Hoshiko possibly have a future together when the fundamental laws of society are designed to keep them apart?
As the story unfolds we learn the origins for this segregated and hate-filled society are closer to reality than is comfortable. This is as much a reflection on our present-day values as it is a glimpse at a possible future. It is a thoughtful, introspective analysis on who and what we value as society and how we determine where our humanity and compassion is directed.
Show Stopper is a high-wire heart-stopper that will leave you holding your breath and praying not to slip headfirst into heartbreak.
Reviewed by Fiona Miller-Stevens