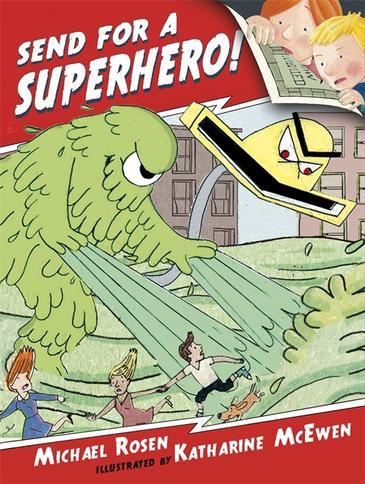 ROSEN, Michael (text) Katharine McEwen (illus.) Send for a Superhero! Walker, 2013 unpaged $24.95 ISBN 9781406327090 SCIS 1635793
This large format children's book has gorgeous, full colour illustrations on every page.  The story sets out simply and cleverly, with Emily and Elmer's dad reading this very book to his children at bedtime.  As we too begin to take in the story of the book that Emily and Elmer are listening to, the illustrations take on a comic-book style narrative.
The world is threatened by a gang of two, the Terrible Two, namely a creature called Filth (he can pour muck and slime over everything) and Vacuum (can suck up money from anywhere, even from banks).  We can see that there is a lesson here about the consequences of environmental destruction from over-production and untrammelled greed for wealth.  Can the world be saved by the usual comic-book solution – super heroes?  In the comic-book, we witness Filth and Vacuum causing havoc in a world where only the young boy 'Brad (agent 40)' understands that a catastrophe is happening.  Several super heroes have a go at stopping the Terrible Two: Steel Man, Fly-through-the-air-very-fast-Man, Green Man, and Extremely Boring Man.
But be warned, parents, even though the world might be saved, you won't be saved from reading the book again and then again as you try to settle your little book lovers to their dreams.  Recommended for 4 to 8 year olds.  KB