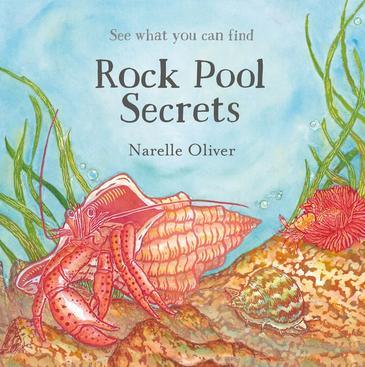 Narelle Oliver, Rock Pool Secrets. Walker Books Australia, 1 April 2017, 32pp., $24.99 (hbk) ISBN 9781922179357
Look into a rock pool and you might see some small fish, a few crabs and other marine creatures. But look further and harder and you will find an array of wildlife. This picture book explores the creatures of rock pools, naming, describing and telling us other information about them. The creatures include anemones, crabs, starfish and many more.
Narelle Oliver's passing was a great loss to many, not least the children's literature world. She has left us some beautiful books, one of which is this new publication. The linocut print, lino etch and watercolour illustrations are mesmerising. They take the entire double page spread and venture into the fold out sections, extending the page to reveal the secrets of the pool. Short verbal text introduces the creatures and questions are asked throughout, encouraging audience participation and prompting readers to seek out what is hidden in the images. There is much detail and much to view in the illustrations, making this perfect for all ages.
There is a lot of factual information shared about life in the rock pool. Not only throughout the narrative, but also at the back of the book. Readers will be able to easily answer the question
"Why do rock pools have secrets?".
The last page of the narrative folds out to be four pages wide, showing all the creatures from the previous pages. This non-fiction picture book will delight young readers and would make a lovely lap read or read aloud. Highly recommended for public, pre-school and primary school libraries, and private collections of lovers of beautiful picture books.
Reviewed by Liz Derouet