Alan Horsfield (text), and Nancy Bevington (illustrator), Pirates of Tahiti: A Tale of Two Ships, EJH Talent Promotion, November 2019, RRP $12.95 (pbk), ISBN 9780648027072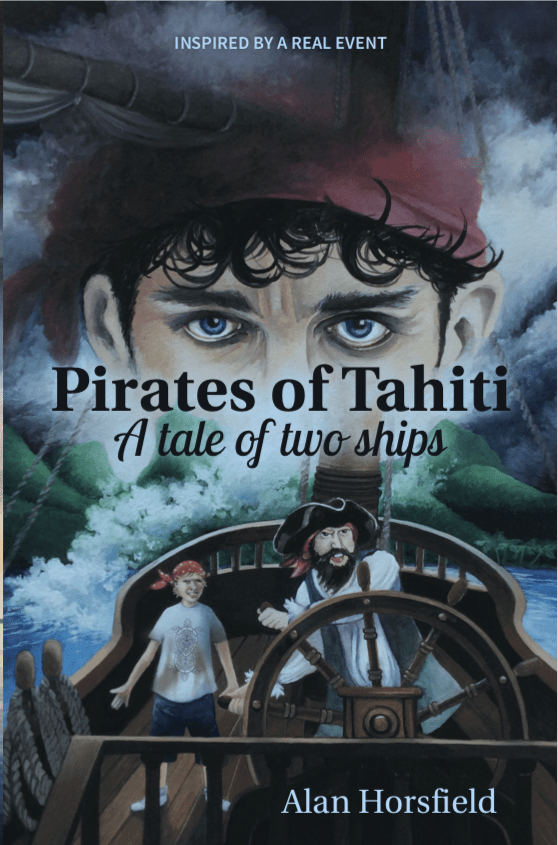 Alan Horsfield's new time-warp novel is inspired by his own trips to Tahiti as well as actual historical events.
Hawkins Botright is about to board The Seabreeze for a leisurely cruise of the Tahitian islands with his family when without warning he is transported back to a time when pirates plundered Spanish towns of the South American West Coast taking refuge in Tahiti. How did he get here? Why is he here? And more importantly, will he escape with his life?
As one might expect from a fact based book about pirates there are a few scenes involving violence (including weaponry) and drunkenness (though probably very tame versions of actual events) that might make it unsuitable for some children (or better suited as a read aloud rather than a read alone). There is also some rather challenging vocabulary for the intended middle grade audience. The story does however offer readers an extremely well researched glimpse into a place and time so far removed from our modern world.
This book will appeal to children-middle grade and older- with a particular interest in pirates and history. But any child with a thirst for adventure could enjoy the twists and turns of the plot as well as the many colourful characters they meet along the way.
Small black and white illustrations and a few photographs break up the text nicely. There is also a glossary of nautical terms and an illustrated guide to some of the sailing ships mentioned in the story.
Reviewed by Deborah Kelly