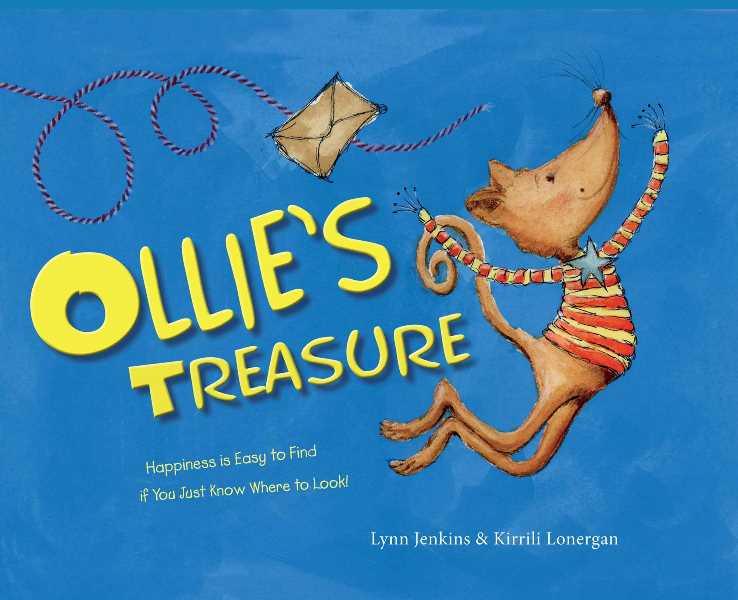 Lynn Jenkins (text), Kirrili Lonergan (illus.),  Ollie's Treasure,  Exisle Publishing,  June 2017,  32pp.,  $24.99 (hbk),  ISBN: 9781925335422 
Ollie's Treasure is a tale of mindfulness for children. Knowing he likes treasure hunts, Ollie's grandma sends him a treasure map promising treasure that will bring him happiness. The map guides him through experiences that involve all the senses – 'Look up and see the sky', 'Find the brightest yellow rose and smell its perfume', and 'Wriggle your toes and feel the grass under your feet'. When Ollie reaches the end of the treasure hunt, he is disappointed there is no shiny truck or walkie-talkie. But disappointment turns to joy when he realises that noticing the things around him makes him feel happy and happiness comes from within.
Written by Lynn Jenkins, a clinical psychologist who is passionate about 'early intervention in the social and emotional development of children', Ollie's Treasure is a wonderful book for helping children learn about mindfulness and begin exploring it in their own lives. Carefully worded and appropriate for young children through primary-school-aged children, I can imagine it being used to prompt discussion and learning in the classroom.
Whimsical watercolour illustrations help to engage the reader in the story, capturing the emotional journey of Ollie as he experiences a range of emotions. The warm and loving relationship between Ollie and his grandma is also beautifully conveyed through the pictures.
Highly recommended for children 4-8 years.
Reviewed by Rebecca Blakeney