Kathy Helidoniotis, Nice Girls don't Play Footy, Scholastic Australia, July 2019, 240 pp., RRP $16.99 (pbk), ISBN 9781742769226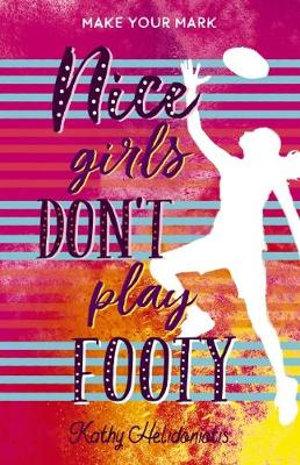 With the rising popularity of women's football, Nice Girls Don't Play Footy is a timely addition to the growing collection of children's literature on the subject.
The story focuses on Devi Sharma, who at the beginning of the story dreams of becoming Bollywood's first ever 'Australian half-Indian, sort of Kiwi, quarter Scottish, Vaisnavi vegan superstar'. But at the elite sports school she attends, she's given a taste of football and suddenly she can't get enough. Devi begins leading a double-life. She knows her conservative family won't approve of her playing footy so she forges her mum's signature to participate, winning a spot in a top team and sneaking off to training. Meanwhile, she continues attending dance classes where her mum maintains a desperate desire for her daughter to star in the BollyOz competition. In the climax, it all becomes too much and Devi confesses.
The book explores what it's like to live in a committed religious family and the battleground that can arise between conservative parents and adolescents who want to explore what life has to offer. The friendship troubles and theme of following dreams will be relatable for young readers. There's also an insight into the tenacity and resilience required to succeed as a young athlete.
An enjoyable read for late primary and early secondary readers.
Reviewed by Heather Gallagher