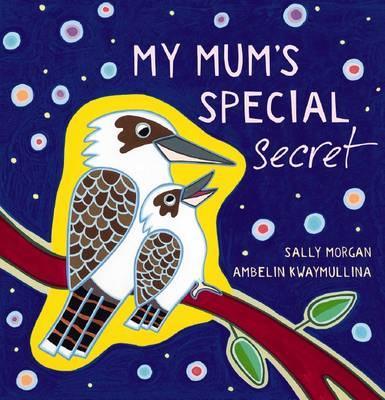 Sally Morgan (text),  Ambelin Kwaymullina (illus),  My Mum's Special Secret,  Omnibus Books/Scholastic Australia,  1 April 2016, 24pp.,  $24.99 (hbk),  ISBN 9781 742991368
Mother Kookaburra is teaching her baby about the world and Baby Kookaburra has lots of questions – where to find tasty beetles, what worms will be juiciest and how to locate fresh water.  Mother Kookaburra knows she must train her little one to survive in the bush and, while she does, she opens Baby Kookaburra's eyes to the wider world of towering trees, playful cloudy skies and the stars above.  But Mother Kookaburra's most important message for Baby Bird is about love; her special secret shared.
This delightful book is about nurturing and love; it's about taking time to answer questions and the transference of knowledge from adult to child, kookaburra-style.  Sally Morgan writes in an accessible direct style as she takes us through the new life-skills Baby Bird must learn.  Her use of rhythmic repetitive sounds makes it great fun to read out-loud and gives the book a lovely interactive quality.  And the illustrations by Ambelin Kwaymullina are absolutely captivating; the vibrant colours and patterns, with their strong reference to Aboriginal culture, burst out from every page.  My Mum's Special Secret has a broad application to many areas of early childhood learning and is a book to be enjoyed by all ages – from tiny tots to young children and the adults who read it to them.
Reviewed by Jennifer Mors