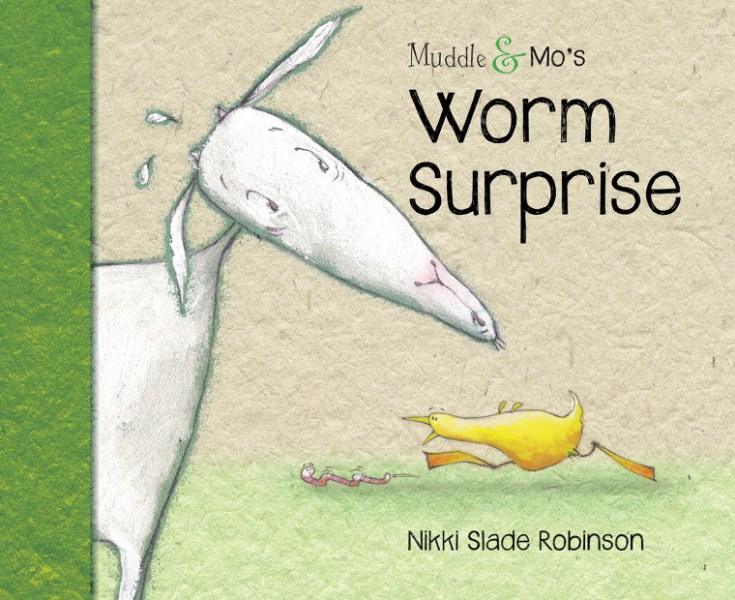 Nikki Slade Robinson, Muddle & Mo's Worm Surprise, Starfish Bay Children's Books, April 2017, 40pp., $24.99 (hbk), ISBN 9781760360306
Muddle & Mo's Worm Surprise is a surprise indeed. This unassuming little book is positively brimming with delight and beauty.
The endearing duck and goat return to us and, this time, Muddle the duck is planning a picnic. Worm Surprise is on the menu and Mo is looking a little dubious at the thought. Muddle has a glorious time collecting a smorgasbord of worms for the picnic but Mo grows more and more anxious.  By the time Muddle has dragged Mo to the perfect picnic place, at the top of a hill, the herbivorous goat is looking downright despondent.
The surprise, of course, is that Muddle is a thoughtful little duck who has prepared a delicious feast of greens for his friend and the two enjoy a fun afternoon together.
The restrained text consists solely of dialogue in two different fonts, one for each of the characters. This makes it a treat to read out loud – complete with character voices – to preschoolers, who will also delight in the simple but expressive faces of the goat and duck. The refrain of "read it again" is pretty much guaranteed with this gem.
Reviewed by Penny Harrison