Catherine Greer, Love Lie Repeat, Penguin Australia, March 2019, 320 pp., RRP $19.99, ISBN: 9780143791225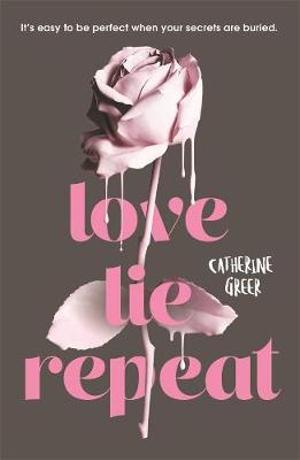 Annie and her two best friends, Ash and Ruby, have everything – money, looks, talent – and their friendship is unbreakable. There's no secrets between them. They call themselves the Sirens. The Sirens are there for each other through it all: boys, mothers, divorce.
Then Ash's new step-dad brings his son home to live with them in Australia. Trip's arrival changes things. He's cute, has a dangerous past, and he and Annie instantly hit it off. Despite this, Annie knows she has to work hard to protect the Sirens, to not let Trip ruin everything. Trip also needs to learn how much he needs Annie, and that earning her trust is very, very important. Because when trust is broken, lessons have to be taught.
Love Lie Repeat is a suspenseful, psychological drama, filled with complex characters. Beneath the Sirens' carefully manicured facade, self-doubt, relational aggression, jealousy, guilt and betrayal are all in play within this toxic trio of friends. It is an interesting examination of a range of female relationships – most unhealthy – but all with a struggle for power.
Author Catherine Greer skilfully uses the unreliable narrator, Annie, to explore the reasoning behind the girls' misguided behaviours. As the story unfolds, we uncover the layers of Annie's character, born from anger and contempt for her mother and her part played in the divorce. Then there is the loss of her once-close aunt. A loss Annie has never dealt with and which affects her in a myriad of ways.
Love Lie Repeat deals with modern-day teenage issues. It is Annie's unique perspective on these problems which is both disturbing and compulsive to read.
Love Lie Repeat is an addictive story which will keep readers guessing until the end.
Reviewed by Fiona Miller-Stevens