Anthony Browne, Little Frida: A story of Frida Kahlo, Walker Books, April 2019, 32 pp., RRP $24.99 (hbk), ISBN 9781406381221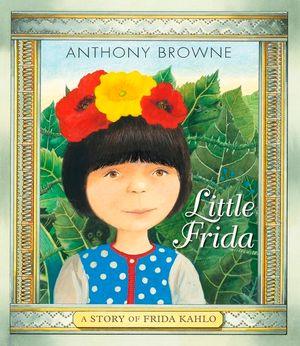 Little Frida transports you into another world, literally the imaginative world of a young Frida Kahlo.
As a young girl Frida falls sick with polio and then afterwards is isolated by her peers because of her limp. Friendless Frida dreams of the freedom of flying, but when she receives a pair of wings she is disappointed that she can't really fly. That is until she discovers an escape into her imagination. In this world she can run, she can fly, and she meets a beautiful dancer that looks like her and becomes her precious friend.
Browne's illustrations really bring the story to life – intriguing and surprising, they are very symbolic representing the range of experiences and emotions felt by young Frida. Followers of Kahlo's artwork will also recognise Browne's interpretation of her portrait 'The Two Fridas' (1939).
I loved the unpredictable nature of this story; the text and particularly the artwork really captured the limitless extent and wonderful world of imagination. A young child reading this would relate well to this imaginary world, and for older readers (myself included) it was a lovely reminder of that place where we can all escape to when life gets a bit too much.
This book offers something for a wide age range of readers starting from age 4 up. For the older readers, it could be used as an initial text for an Art based investigation on Frida Kahlo as well as a deeper reading of the illustrations and their meanings. Younger readers would enjoy the imaginative story and appreciate the theme of coping in difficult situations.
Reviewed by Julie Bertola