Alexa Moses (text) and Anil Tortop (illustrator), Bat vs Poss, Hachette Australia, January 2019, 32 pp., RRP $16.99 (pbk), ISBN 9780734418395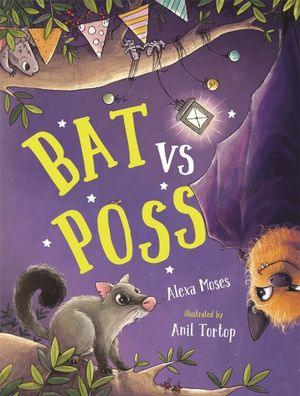 Meek the possum and her sisters get an unexpected surprise when a bad-mannered fruit bat named Squabbles takes over their tree. Squabbles is rude and nasty, and simply will not share. What are the possums and the other residents of the tree to do?
In this story about second chances, making friends and learning to share, author Alexa Moses uses many tricks to entertain readers of the preschool set and older. There's hyperbole, references to poo and belching (always a winner!), and a light-hearted rhythm and rhyme that begs to be read aloud. Combined with Anil Tortop's very cute illustrations bringing all the characters to life, Bat vs Poss is a book that will please children while at the same time encouraging a love of language, books and reading.
My only small gripe (coming from a trained zoologist) is that Squabbles' appearance has a hint of the "evil vampire bat" about him, which does little to dispel the undeservedly fearful reputation some people have of real-life fruit bats, which are actually harmless fruit-eaters. That small point aside, Bat vs Poss is a fun and very entertaining story, especially suitable for bedtime snuggles and group story-times.
Teachers Resources are available on the Hachette website.
Reviewed by Julie Murphy