Jodie McLeod (text), and Eloise Short (Illustrator), Leonard the Lyrebird, self-published, September 2018, 32pp, $24.95 (hbk), $16.95 (pbk) ISBN 9780994450753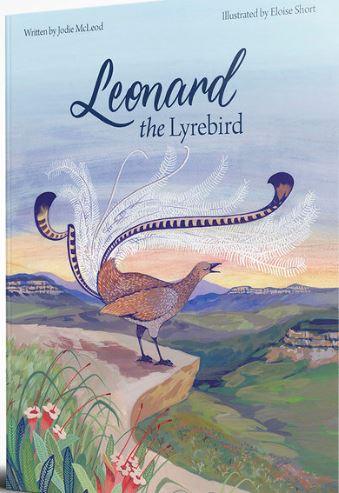 Leonard the lyrebird entertains all the animals with his singing but can he impress the one friend he really wants? Featuring the landscape of the Blue Mountains and written and illustrated by local residents, Leonard the Lyrebird captures the magic and musical virtuosity of one of the area's most vocal inhabitants. Like the author, who was inspired by visits to her home by a lyrebird, our family is constantly entertained by resident lyrebirds at our property in Jamberoo, as featured on my recent blog tour.
The charming story of Leonard, like the unique song that lyrebird Lilah urges him to find, is sweet and simple, with tension building courtesy of a fox and bunyip. The playful text offers a mix of prose and verse, featuring animal sounds that young ones will delight in reading aloud. Eloise Short's vibrant illustrations, hand-painted in gouache with an eye-catching palette, capture the majesty of the Blue Mountains. The production quality is high, redefining standards for self-published children's books.
This gem of a book touches on the themes of friendship, courage and finding your own voice. With local references sprinkled throughout, Leonard the Lyrebird is very much a tribute to the Blue Mountains, showcasing Australian bush animals and their habitat, but will undoubtedly appeal to children and families far beyond.
Reviewed by Maura Pierlot