Davina Bell (text) and Karen Blair (illustrator), Lemonade Jones and the Great School Fete, Allen & Unwin, September 2019, 64 pp., RRP $19.99 (hbk), ISBN 9781925266740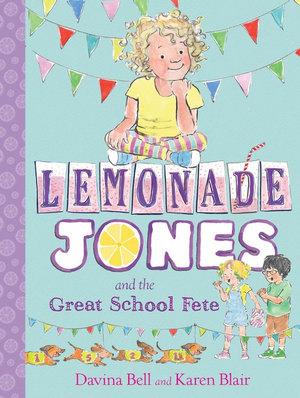 Feisty, full-of-life Lemonade Jones is back in the second book in the eponymous series by award-winning author Davina Bell and illustrator Karen Blair.
Lemonade's school is holding a fete and Lemonade has cheekily nominated her mum to be the lead singer of the Year One Mum Band. There is one small problem: Lemonade's mum doesn't sing. But Lemonade is sure that her mum will overcome this and steal the show. And Lemonade will be right at the front performing her Pony Punk Funk.
On the day of the fete, while her mum is rehearsing with the band, Lemonade's dad tells her she can explore the fete by herself. This is exciting because she's never been allowed to explore alone before. She samples everything she can – the rides, the Haunted House and most of all, the irresistible treats.
But when it comes time for the Year One Band to perform, Lemonade's mum freezes, overcome by stage fright. Luckily, Lemonade is there to save the day with her Pony Punk Funk. And that's when the heat and the donuts, the unicorn poos, the mini hotdogs, the toffee apple and the custard boogers come back to bite her.
Davina has a gentle but effusive way with words which make this a delight to read aloud. Lemonade is curious and bold, kind and generous. Karen Blair's illustrations are vibrant and match the energy of the text and the main character.
This book is perfect for newly independent readers or great as a read-aloud to delight children in lower primary school.
Reviewed by Pamela Ueckerman