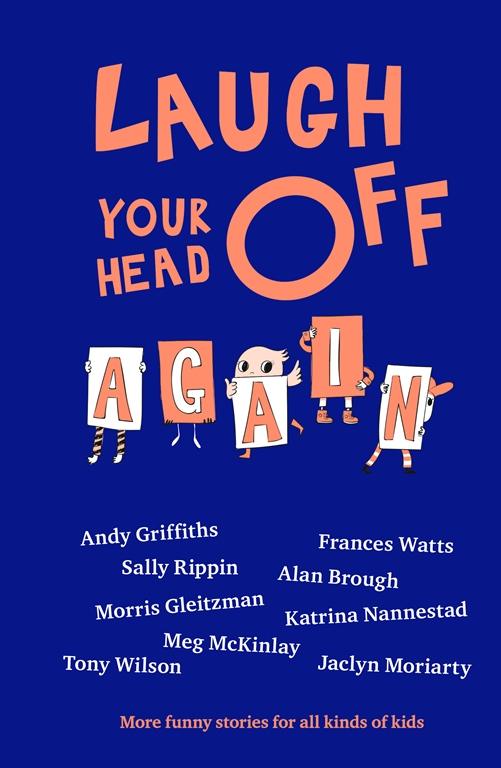 Andy Griffiths, Sally Rippin, Frances Watts, Alan Brough, Morris Gelitzman, Katrina Nannestad, Meg McKinlay, Tony Wilson and Jaclyn Moriarty (text), Andrea Innocent (illus.),  Laugh Your Head Off Again,  Pan Macmillan Australia, 25 Oct 2016,  224pp.,  $19.99 (hbk), ISBN: 9781743549872
The first thing that strikes you about this book is the intense neon orange on the cover and throughout, which vividly highlights Andrea Innocent's quirky, funny illustrations. The stories leap off the page with the same quirkiness and vibrancy, beginning with Andy Griffiths' hilarious 'Busting', the tale of a boy who faces increasingly terrible obstacles on his way to the bathroom. The ending of this story is an absolute cracker.
There are nine stories in total, by some of Australia's most talented and loved children's authors, writers who know kids' humour well. There are fart jokes, toilet jokes, talking animals, a vampire seagull, a giant concrete tomato and curious little creatures called Quibbles. Some stories are realist, others are more fantastical but they are all fun. They deal with situations kids are likely to find themselves in, like the competitive nature of 'bring a pet to school day' and the age old problem of a dog eating your homework, but with new twists and unexpected turns. The line drawings depict characters and their strange and awkward predicaments beautifully. My favourite is the row of staring llamas in Alan Brough's hilarious and slightly surreal story, 'Charlie and the Silence of the Llamas', which also features tables, caption boxes and other little asides.
The media release says this book will appeal to boys and girls, but only one of the stories has a female protagonist, although two others have resourceful secondary female characters. This is a little odd given that more than half the authors are female. Ultimately, despite a focus on toilet humour, which tends to appeal more to boys, the stories are imaginative and very funny, regardless of the gender of the central character, but it would be great to see a better representation of female protaganists.
At the end of the book there is a biography for each author, and a paragraph about what they find funny. Whilst I enjoyed all the stories, the stand out for me was Tony Wilson's 'The Saucerer's Apprentice', about a secret society of pie protectors in search of the perfect meat pie, and their arch-nemesis, a vampire seagull.
Reviewed by Rachel Le Rossignol