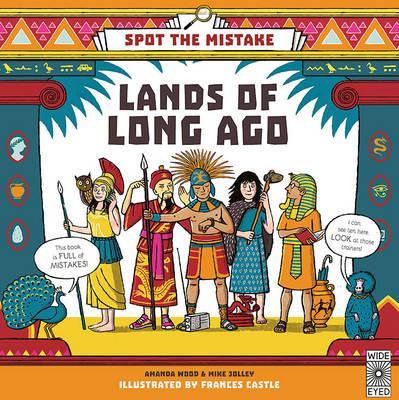 Amanda Wood & Mike Jolley (text), Frances Castle (illus.),  Lands of Long Ago (Spot the Mistake),  Wide Eyed Editions/Quarto Group UK, 4 May 2017,  48pp., $24.99 (hbk), ISBN: 9781847809636
Lands of Long Ago is a fun search and find history book with a twist – every image has twenty mistakes to find. Beginning with the Stone Age and moving forward through history to examine the usual suspects (Pharaohs, Greeks, Romans and Mayans), it also offers a few more unusual multicultural options, including the Han dynasty of Ancient China and the Mughals of 16th Century India.
This is a big book, the size of a record cover, so the images are easy to see and explore, with lots of detail. Each picture has a few characters looking directly at the reader, drawing them in, and the two guides, a girl and a boy, appear on every page, asking questions that provide clues to some of the errors. Some of the mistakes are obvious, but others will require a better understanding of the time period.
The book is structured so that each historical period has a two page spread depicting a scene from that time in bold primary colours. Among the accurate costumes and activities are deliberate anachronisms such as a Mayan child carrying a soft serve ice cream. On the second two page spread the twenty mistakes are listed, along with details about why they are wrong (e.g. dinosaurs were extinct by the stone age). These details provide further information about what would have been correct, for example, the Chinese didn't have hot air balloons, but kites were popular.
Although there is a lot going on in the pictures, the overall lay out is well ordered, with a themed colour palette for each era that ties everything together. There is also a section that provides further information about the time period depicted. There is a lot of written historical detail included, so this book would be best suited to mid to upper primary age.
Reviewed by Rachel Le Rossignol