Susannah Chambers (text) and Tamsin Ainslie (illustrator), Is it Halloween Yet?, Allen & Unwin, September 2019, 24 pp., RRP $19.99 (hbk) ISBN 9781760297404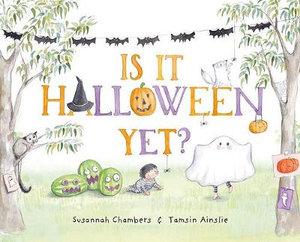 A heartwarming story about the vivid imagination of Emily, a little girl who is desperate to celebrate Halloween. The author and artist have created a thoroughly believable family with warmth and humour, beautifully illustrated with the sort of tiny domestic detail that children love.
The artist has created the distinct personality of each of the characters with just one or two deft strokes. The final page when Emily leads her appropriately costumed parents, grandmother and baby brother off to Trick or Treat is delightful. Carefully designed, there is minimal text, set in a large type size, and the most amusing endpapers of ghosts and bats with various expressions.
There are also some straightforward instructions for folding an origami bat. Highly recommended for ages 3-6.
Reviewed by Liz Douglas