Sonia Bestulic (text) and Nancy Bevington (illustrator), Kisses in Your Heart, Big Sky Publishing, April 2019, 32 pp., RRP $24.99 (hbk) ISBN 9781925675931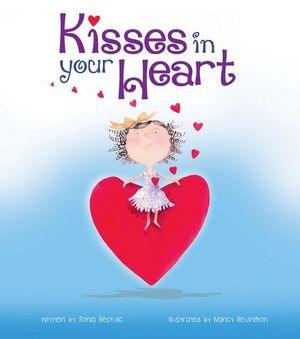 There are many lovely books to share with children at bedtime, but sometimes finding the appropriate one to calm a worried child is not easy. Kisses in Your Heart is a welcome addition to the books available to families needing to reinforce safety, security and foster emotional resilience.
This sturdy hardcover picture book by Sonia Bestulic (author of the prize-winning Reece, Give Me Some Peace!) is written in rhyming couplets. The simple language and predictable pattern of the rhyme supports but does not distract from the main focus of the narrative: emotions.
The portrayal of the child protagonist's secure bedtime routine, receiving "kisses from the heart" from her loving mother, begins the book on a positive note. From this place of emotional safety, the child then is able to venture out into the world, safe in her parent's love. Shyness in new situations, sadness, fear, worry and isolation are introduced, but the memory of the mother's kisses and the security they represent help the girl to overcome negative emotions and finish the story on a positive note.
"I close my eyes, and always know, these kisses follow where I go."
The illustrations employ a soft, muted palette and the characters are rendered simply but with emotional variations. Different emotions are represented visually through the illustrator's colour choices, the use of darkened shadows, and the placement of the girl figure alone on an empty visual plane. As well as the "heart kisses" there is a favourite teddy bear accompanying the child through her emotional phases.
The prominent and repeated red heart motif, together with the girl protagonist, give a feminine tone to this book, which may not appeal to boys. Nevertheless, it is a helpful book to share in families to reinforce the positive message of resilience, love and support that parents can offer to children in a world that can be confusing and confronting.
Teaching notes can be downloaded here.
Reviewed by Julie Thorndyke