Kiara Honeychurch, In the Bush I See (Young Art series), Magabala Books, March 2019, 12 pp., (board book), RRP $9.99, ISBN 9781925360912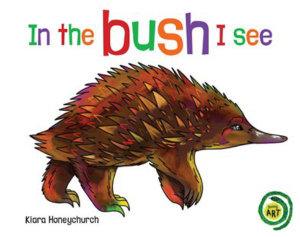 This illustrative debut from Tasmanian teenage artist Kiara Honeychurch offers a sound reading experience for the very young. The simple text labels her visual representations of Australian native animals which are commonly found in the bush.
A swarm of wasps; a screeching cockatoo; a shy possum; a playful platypus . . . eight animals are illustrated with strong line definition and touches of rainbow colours which are also employed for the text. The sturdy white pages and bright clear colours are suitable for early childhood age group.
The is the fourth release of the 'Young Art' Board Book series from Magabala Books showcasing young Indigenous artists. Other titles in the series are: At the Beach I See; At the Zoo I See; and In the City I See.
The series is a worthwhile project helping to develop young illustrators, and one that offers a quality Australian-made literacy experience for little children.
Reviewed by Julie Thorndyke