Anh Do (text), and Jules Faber (illustrator), Hopping Weird! (WeirDo #12), Scholastic Australia, April 2019, 147 pp., (pbk), ISBN 9781742997926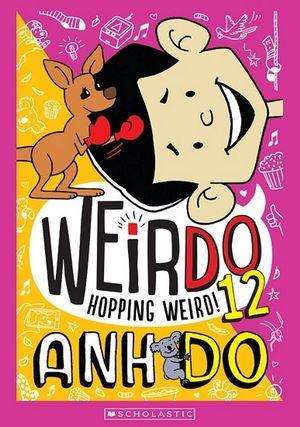 Weir and his family are back in an all new adventure. Mum has a new job at an animal hospital, and she brings home orphaned and injured animals to care for, much to her family's delight. They all like to help out. The latest patient is an injured joey, who is very popular with the kids, but less so with the family's pets. Meanwhile at school, Weir has to do a group project with Bella to create a short film about friendship. They struggle to find an idea and decide to start filming things and see what they come up with – and they end up filming Joey a lot, and his interactions with the family pets. Will they get their project done in time, and will they be able to reunite Joey with his mother?
This latest in the WeirDo series is fast paced, high energy and has plenty of humorous asides. It would be a good option for newly independent readers – although it is 147 pages, most pages are taken up with illustrations and text in very large fonts, making it very accessible. While it is understandable without reading the earlier books, it will probably be enjoyed more by those already familiar with the characters, as no time is wasted by introducing them or explaining relationships.
It will no doubt be popular in primary school and public libraries, and among fans of the earlier books.
Reviewed by Rebecca Kemble