Priscilla Lamont, Hodge Podge Lodge (A Rubbish Story), New Frontier Publishing, December 2018, 32 pp., RRP $24.99 (hbk), ISBN 9781925594287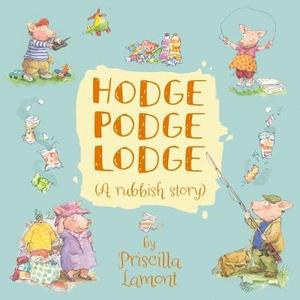 The Pigwigs are a messy family, with loads of rubbish building up in their house. When it all blows away and causes chaos in the nearby forest, they are forced to change their ways. This is a lovely title to introduce young children to the consequences of littering, with various adorable forest creatures affected by the rubbish: "Rat found some plastic packaging that looked just like meringues, so he gobbled them up and got a horrid stomach-ache"; "Squirrel had to be rescued from inside an empty crisp packet" are particularly funny and children will enjoy the rhyming text.
The illustrations are wonderful and Priscilla Lamont's extensive experience as an illustrator is evident. There is almost a watercolour effect (a modernised Beatrix Potter style) that suits the nature and animal illustrations perfectly.
This book is perfect to read aloud to 3–6 year olds, and would be a great teaching tool to explain the different classroom bins and why they're important. Teacher's notes and classroom activity templates are available online for this purpose.
Reviewed by Jessica Dowling