Jane Godwin (text), and A. Yi (illustrator), Ivanhoe Swift Left Home at Six, Allen & Unwin, March 2019, 32 pp., RRP $24.99 (hbk), ISBN 9781760631864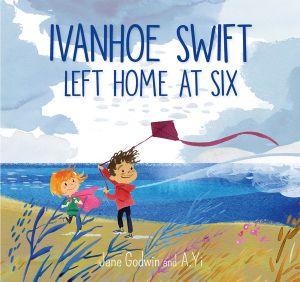 Ivanhoe Swift (isn't that a lovely name?) "had heard many songs about the world" and decided that he needed to see it for himself. He packs a map, a hat, a pencil, his kite and a sandwich in his backpack and sets off. His parents are worried that they will not know where he is but he logically replies that he will know where they are!
Along the way he meets a new friend, Maisie Jane, but she leaves him when she finds a lovely cottage to live in. As Ivanhoe wanders further away from home, the world becomes a more scary place and some other people are not like Maisie Jane. After his map gets soggy, his damaged kite is swept away and he is cold and wet, he sings a song about the sea and it carries him gently back. Ivanhoe tells his relieved parents that he has seen enough of the world for now.
This gentle picture book can be interpreted by the reader as a dream journey, a figment of Ivanhoe's imagination, a pretend exploration or a real adventure climbing trees, crossing streams and discovering his wider environment. Songs play an important part.
The watercolour illustrations use beautiful colours evocative of each situation with blues for the water in the ocean and stream, autumn tones for the countryside and dark shades for the forest. The front endpaper shows fields and trees with the back one being watery waves and rain.
This is a book for the reader to interpret however they wish, with lots of discussion points possible with an interested adult, in an educational setting or at home.
Reviewed by Lynne Babbage