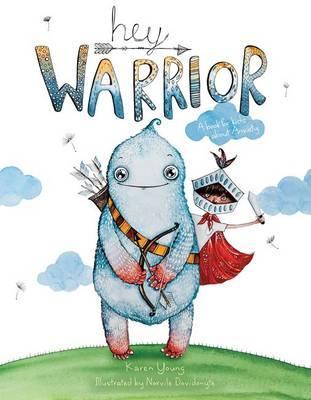 Karen Young (text), Norville Dovidonyte (illus.),  Hey Warrior, Little Steps Books, Dec 2016, 32 pp., $24.95 (hbk), ISBN: 9781925545081
"Anxiety explained, kids empowered."
Hey Warrior – what a perfect title for a book about anxiety. Upon reading this title I was excited to open the book and be absorbed by its pages. The text is factual and truthful; providing children with a sense of knowledge and power in understanding and taking charge of their own mental health and wellbeing.
Author Karen Young is the founder of www.heysigmund.com, an amazing website dedicated to normalising psychology and 'the art of being human'. I have accessed this website often as a mum and also as an early childhood teacher. With mental health awareness on the rise, it is important that children and their parents are aware of and understand themselves and their feelings, and the importance of mindfulness.
As explained at the beginning of the story, the amygdala is the small part of our brain that senses and protects us from danger – "Kind of like a superhero!" Children are then encouraged to give their own amygdala a superhero name; thus encouraging children to take ownership of themselves and their feelings.
Supported by the whimsical yet calming illustrations by Norvile Dovidonyte, the text goes on to explain what our bodies may feel while experiencing anxiety; dizziness, shortness of breath, pounding heart, overactive emotions, sweating and more. Not only are these symptoms identified but it's also explained why these things are felt – again, knowledge is power! Next up is various strategies to support children in being the boss of their brain; things like powerful thoughts and deep breathing.
The parting message of Hey Warrior:
"Always remember, anxiety is a sign that you're about to do something really brave."
– something we all need to be reminded of sometimes.
This book is powerful in its message and delivery. It supports children in understanding themselves and how they can take control of their feelings; in order to be brave, courageous and amazing!
Reviewed by Raquel Mayman