Frida Nilsson (text) and Stina Wisen (illustrator), Hattie, Gecko Press, March 2020, 160 pp., RRP $16.99 (pbk), ISBN 9781776572717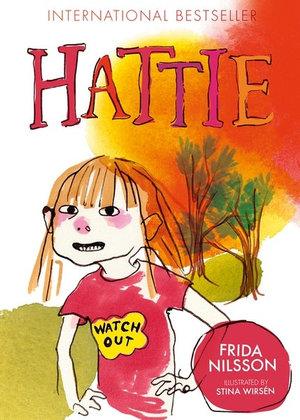 Six-year-old Hattie doesn't even live in the middle of nowhere. She lives outside it. As an only child, she is tired of not having friends to play with, and she's really looking forward to starting school: new friends to meet and play with and simple new experiences such as riding on the bus.
Hattie's cover T-shirt "Watch Out" sets the tone for Hattie's adventures. Many of Hattie's escapades are rebellious but she is often the one who tones down her behaviour or recognises her own failings and does something to correct them. Her parents show some disappointment with her actions but are never punitive. There are many subtle humour moments: referring to the trainee teacher's complexion looking like waffles; Picking carefully planted lupins rather than wildflowers for her mother: Eating blood pudding for school lunch and the prank Hattie and her best friend Linda almost play on one of the lunch cooks.
Thoughtful readers will be interested in the insights into Nordic culture: foods, Christmas traditions and her Easter letters which Hattie subverts. Short chapters make this book inviting to younger readers. Sentence structure is simple but not simplistic. There are occasional black line drawings which enliven the text. There's a brief question and answer session with Frida Nilsson.
I'm not sure I liked Hattie but her adventures made for an entertaining read.
Reviewed by Maureen Mann