Beth Reekles, Going the Distance (The Kissing Booth #2), Penguin Books, January 2020, 368 pp., RRP $16.99 (pbk), ISBN 9780241413227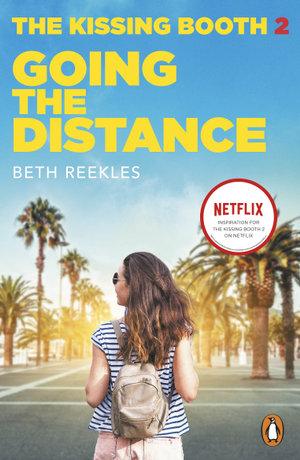 Going the Distance is the poster child for the 'Long Distance Relationship' trope in young adult romance fiction. In The Kissing Booth, which was also made into a Netflix movie, Elle fell in love with Noah, the older brother of her best friend Lee, and they worked their way through dramas and traumas and having to hide their relationship from their families to get their happily ever after. Now, Noah is off to college and Elle is in her final year of high school, and they're trying to make a long distance relationship work. 
The problem is, Noah's being cagey about something and there's a girl turning up in his social media photos that he hasn't really mentioned to Elle. And Elle has become friends with a new boy at school. He's sweet, he's a charming doofus, and he's there for Elle during the tensions of senior year and the emotional rollercoaster of planning for a future beyond high school. Throw in the fact that Elle seems to be losing her best friend Lee when he keeps ditching plans with her to spend time with his girlfriend, and it's shaping up to be a rocky year.
Fans of The Kissing Booth and The Duff are going to enjoy this one. There are misunderstandings, and miscommunications, and Drahmaz – Going the Distance has all of those in spades – and enough angst to fuel every fairy light in the country. 
The tensions in the relationship between Elle and Noah are plausible, and Beth Reekles has set up their relative complications to mirror each other and provide a foil, even if the resolution felt a little abrupt. Their families and friends also act as a third-party viewpoint that shows just how plausible Elle and Noah's misreadings of things are – if their friends, family and the reader can all leap to those conclusions, then is it any wonder that the main characters do too?
Where I would have liked to see more was in the friendship between Elle and Lee, and the way that Lee's relationship with his girlfriend Rachel complicated the former closeness with his friends, especially Elle. Some of the most memorable moments in the story for me were when Lee was forced into making choices between the girls, and the fallout of those choices. My favourite moment in the book was when Elle and Rachel had to put aside the tension between them to deal with Lee, and there was a lot more juice in those moments that could have been teased out further. In contrast, Elle and Noah's issues were largely resolved with one fairly brief conversation that, frankly, they should have had in the first chapter.
A mature teen audience is advised for sex and alcohol use, although all sex scenes happen offstage and with appropriate conversations about responsible behaviour. There is some diversity of cast, mostly backgrounded in one of the boys in Elle's group of friends angsting about telling the group that he's asked another boy to the Sadie Hawkins dance and everyone ending up being very chill about it.
I am not a fan of the Misunderstandingtm. However, other readers' mileage may vary, and if you do enjoy that trope, then this is the book for you. Going the Distance will deliver angst and drama and romantic resolution on a solid base of plausible tension, so break out the ice cream and chocolate and settle in.
Reviewed by Emily Clarke