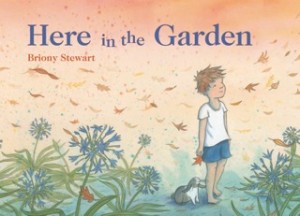 STEWART, Briony Here in the Garden UQP, 2014 unpaged $24.95 ISBN 9780702250101 SCIS 1646765
Here is a lovely picture book about remembering someone who has gone and wishing they were still there.  The nameless child, the narrator, wanders about their yard, throughout the seasons, and reminisces about things they shared: beautiful things like leaves, seedlings, mist on windows, puddles, flowers, bees, cold drinks and ice blocks.  The person, whom the child misses, is not named or even described, so the reader can choose who the missed person reminds them of.
The story reminded me of one of my grandfathers, who was an ardent gardener, and spent time with me when I was small giving me seeds, small plants and visiting my garden beds.  The pictures are great fun; I particularly liked the sprinkler on the lawn, the rabbit watching a butterfly, the dandelions with their seeds blowing everywhere and the leaves that appear to be moving.  Suitable for children aged from three to six.
reviewed by Katy Gerner