Hiawyn Oram (text) and Gwen Millward (illustrator), Flat Cat, Walker Books Australia, January 2019, 32 pp., RRP $24.99 (hbk), ISBN 9781406371543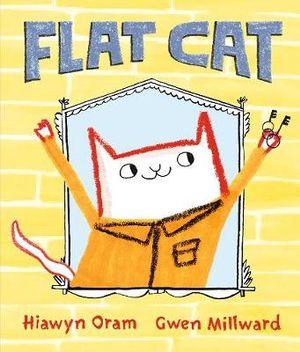 Jimi-My-Jim lives at the top of tall building in one of the busiest cities in the world with his mistress Sophie who spoils him rotten, piling all sorts of playthings on him. Sophie thinks he has the perfect life for a cat but Jimi-My-Jim doesn't agree with her. He isn't allowed to go outside to play and be part of the interesting world he sees from the window. So, he becomes depressed just like a flat cardboard cut-out cat.
Then the family forgets the door keys when they go out and Jimi escapes, meeting Blanche who introduces him to all varieties of cats in the neighbourhood. At the end of one meeting Jimi invites everyone back to his place for a wild party until Sophie and her parents return!
Sophie realises she had given him "things' and not freedom. He's given his own keys, makes a behaviour promise before marrying Blanche. And life is never quite the same for any of them.
It's a fun story with several didactic moments, especially the need to let our loved ones have their own freedom. The exuberant illustrations at these times soften the moral. The themes of friendship and love, freedom and adventure will resonate with many readers, including parents. Millward's artwork reflects the often fast-paced actions, with the cats drawn with simple outlines and facial expressions but details in the backgrounds whether indoors or outside. One criticism is that the family's apartment is several times described as white, but every page has a pastel-coloured background.
Recommended.
Reviewed by Maureen Mann