Kylie Howarth, Fish Kid and the Mega Manta Ray, Walker Books Australia, March 2020, 160 pp., RRP $14.99 (pbk), ISBN 9781760651138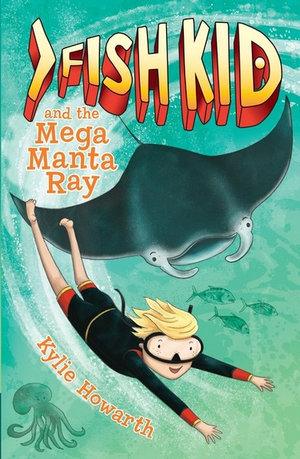 Fish Kid and the Mega Manta Ray is the second book in a short chapter book series about Fish Kid, written by award winning author, Kylie Howarth.
On holidays at Ningaloo, Fish Kid goes snorkelling with his friend, Emely, finding a variety of fascinating sea creatures – sharks, a sea snake, turtles, sucker fish, dugongs–but mostly the manta rays that Fish Kid's Nan used to swim with. Defying his parents' rules, Fish Kid uses his super fish powers to dive the depths of the ocean and flip and roll with the manta rays. But his adventures become dangerous when he gets entangled in a huge, heavy fishing net. And then he sees a pointy fin swimming towards him.Will his fish powers save him?
Most of the narrative describes encounters with the sea creatures and relays the dialogue and banter between the characters. The plot suspense builds only towards the story's end. Interesting facts about sea animals are woven into the story and there's a brief animal fact page at the end of some chapters.
Black and white cartoon style drawings complement the story by portraying character emotions and providing additional context. Similarly, drawings of animals on the fact pages illustrate their physical features.
This is an easy to read, short chapter book suitable for recently independent readers aged 6-9 years old, who have a special interest in the beach and ocean.
Reviewed by Barbara Swartz