Yvette Poshoglian (text) and Danielle McDonald (illustration), Ella and Olivia: The Royal Show (Ella and Olivia #23), Scholastic Australia, April 2019, 64 pp., RRP $7.99 (pbk), ISBN 9781742999784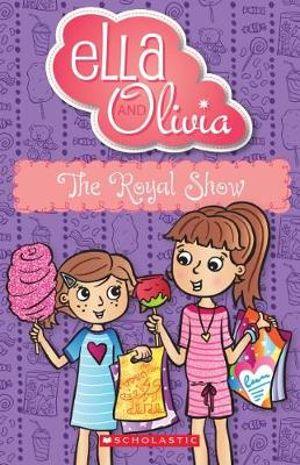 The Royal Show is the 23rd title in the popular Ella and Olivia chapter book series for early readers. Each brightly coloured paperback tells a story about sisters, Ella and Olivia, who are aged seven and five and a half, and have a two year old brother, Max.
This episode is about the excitement of going to the annual show, and includes all of the most appealing features for this age group – farm animals, show bags, food on a stick and fireworks, to name a few. As the family makes its way through the day it seems that everyone except Olivia, the middle child, has had some good luck. This sets out a pattern that will keep young readers anticipating what might be in store for her next. The presentation features large text, short paragraphs and plain but expressive language, with pages adorned with a side page border and lovely line drawings that enhance the text.
This title looks like a crowd pleaser for early readers, and offers plenty of scope for conversation, as well as for role play, creative writing or craft projects involving show bags or imaginative food ideas, for instance. The Royal Show also manages to give a good sense of the personalities of the sisters, differentiating them quite well and showing something of their loving relationship. I would imagine that the cumulative effect of the range of titles in this series would provide a rich experience for novice readers on their way to further literary adventures.
Reviewed by Marita Thomson