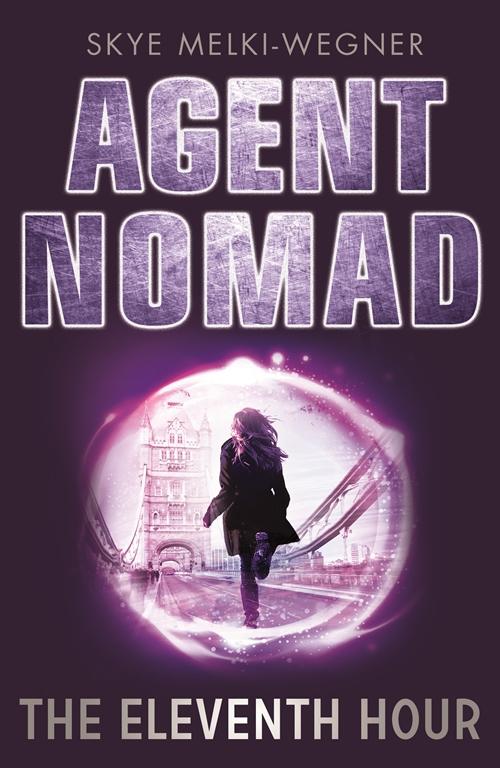 Skye Melki-Wegner, The Eleventh Hour (Agent Nomad #1), Random House Australia,  27 Feb 2017,  336pp.,  $17.99 (pbk),  ISBN: 9780143780151
London, sorcery, gut-wrenchingly evil villains and a pretty damn awesome teenage Aussie heroine? Sign me up!
The Eleventh Hour starts in a small, relatively rural Victorian town where Natalie Palladino, fifteen-year-old schoolgirl, is about to face the Trig Test of Doom. Called off for a sudden assembly with guest speaker John Smith (feeling the mystery yet anyone?) Nat is soon running- or rather, riding her bike- for her life through the streets of Hollingvale as she tries to escape the figures who have cut off her cell signal and are now breaking into her house. Finding the mysterious John Smith- surprise surprise, that's not his real name!- Nat discovers that, due to a genetic anomaly, she has the ability to manipulate 'quintessence'- basically, she can do magic. Not only is she a sorcerer though, but a Witness- a sorcerer who can see the quintessences of OTHER sorcerers, and thus see the magic they have performed or are performing.
Joining the organisation HELIX and taking on the codename Nomad, Natalie is soon training hard to fight the Inductors- the creepy, evil sorcerers who tried to break into her house. But there's a traitor inside HELIX, and only a Witness like Nomad can find them… the question is, is she ready?
Although I found the very start of the book somewhat slow, the pace soon picked up quite substantially, racing around the corners like a rickety roller coaster, with plenty of heart-stopping drops and climbs filled with apprehension and anxiety.
The setting moves from Melbourne to London quite effortlessly, and the character development is subtle, yet noticeable and very nicely done. By the end of the novel, Nomad and Natalie are both rather different from how they started out. The development of Nomad's friends is also substantial and a few plot twists and unexpected, villainous turns near the conclusion of the novel made a nice- albeit heart-attack-inducing- end to the novel, leaving it open for- yay!- many books to come!
Overall, a great novel- not too emotionally assaulting, but fast-paced, action filled, and with enough guts to leave you wondering if sorcery and magic really could exist out there somewhere, hidden away from the public eye. A great, realistic female heroine, and just a generally enjoyable book all in all!
An exciting and highly enjoyable read for anyone aged 12+
Reviewed by Amy Cooper