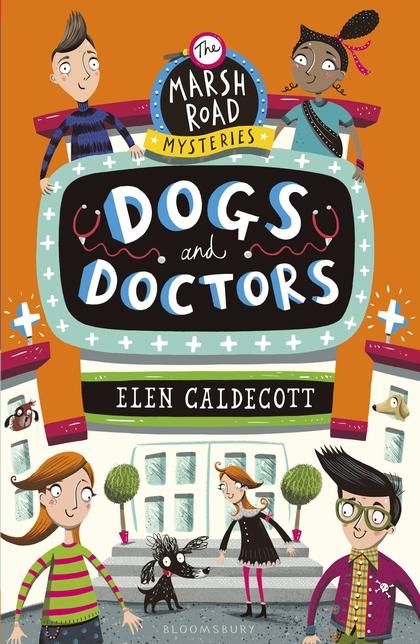 Elen Caldecott, Dogs and Doctors (The Marsh Road Mysteries #5), Bloomsbury, May 2017, 240pp., $12.99 (pbk), ISBN 9781408 876060
This book had my instant approval because, after reading the back cover, I discovered that the heroine has type 1 diabetes. Any book which educates the public about diabetes is vital in my opinion. I had a beloved with diabetes and so came across a number of people in responsible positions who did not know how to prevent hypos (including hospital staff) or recognise one (a police officer).
Upon reading, I was further impressed because Dogs and Doctors is also great fun. It is the fifth in the series of The Marsh Road Mysteries; which is about the adventures of a group of child detectives.  This one is set in a hospital where Sylvie, the feisty heroine with diabetes, reluctantly agrees to stay in hospital, so she can prove to her mother and her medical staff that she can manage her diabetes independently. It is while she is there, that Barry, one of the therapy dogs, is dog napped and an extremely valuable painting is stolen so there is plenty of work for the Marsh Road Investigators.
Interestingly enough, at the front of the book where Caldecott's previous careers are listed, she is mentioned as working in a variety roles including nurse and museum security guard. Apparently, while working at the museum, she realised that 'there is a way to steal anything if you think about it hard enough.' Presumably, as a nurse, she also came across a number of patients learning to manage their diabetes.
I could finish by saying that Dogs and Doctors is suitable for 9-11 year olds, which it is, but I also believe that it should be bought and shared by as many people as possible.
Reviewed by Katy Gerner