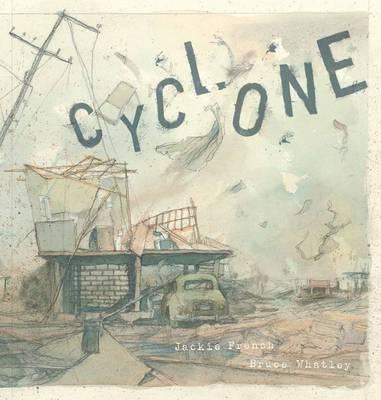 Jackie French (text),  Bruce Whatley (illus.),  Cyclone,  Scholastic Australia,  1 Feb 2016,  32pp.,  $24.99 (hbk),  ISBN 9781743623596
As a child in England in 1974 I remember a terrifying chill at hearing the news that Cyclone Tracy had ripped the city of Darwin to shreds early Christmas morning. This book pulls no punches in its snippy short rhyming text and fluid acrylic washes that drip down the pages, flooding the underlying detailed graphite drawings. The shocking audacity of a storm that could wreck eighty per cent of a city's homes whilst Santa was out delivering presents is the reader's prominent reaction.
Next comes nothing but admiration for Whatley's expert control of angry pools and spatters of paint. The texture of the paper and fragile flicks of pencil pick out the dramatic dominance of nature over man-made structures. Pin-pricks of fairy lights struggle to be seen within largely monochromatic compositions that reference photographs of the time.
The overall book design truly moved me, French's perfect story peppered across the pages in retro typewriter font between the illustrated flying debris. "A crack, a lurch, our house is torn", so much said in so few words.
Ending on a positive note of regeneration this book will educate today's children as to both the violence and the resilience found in Australian life.
Suitable for ages 4+.  Highly recommended.
Reviewed by Liz Anelli