Jacqueline Harvey, Alice-Miranda in the Outback (Alice-Miranda #19), Puffin Books, June 2020, 384 pp., RRP $16.99 (pbk), ISBN 9781760891039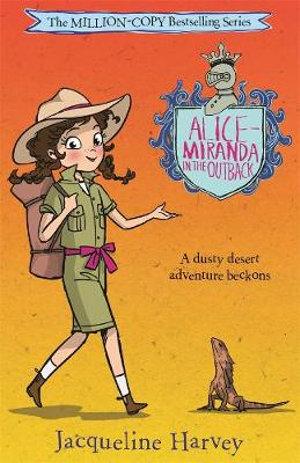 This is the first of the Alice-Miranda series which I have read (this is #19) and I struggled at first with all the names thrown in to the first few pages. But regular readers would not have this problem. I soon adjusted. 
Alice-Miranda and her gang head off, with two of their parents, from the Adelaide area north to Hope Springs station where they are going to help an old family friend, who is unexpectedly short-staffed, with the cattle muster. Of course, there are unexpected mysteries. The first appears with a strange map picked up during a petrol stop on the way there – and the map keep recurring. There are interesting characters: the opal-miner Sprocket McGinty who they stay with in Coober Pedy; the elusive Taipan Dan; Col and Muz; the unpleasant Wally. The Hope Springs mob have to search for the neighbour's deaf child, Matilda who has wandered from home. But neighbours are long distances apart and the reader understands that because it takes so long to get from the homestead to their destination and the use of helicopter and trailbikes as well as horses. In this way, Harvey helps the reader understand the enormity of the outback, helped by references to big open skies and lots of stars. Hope Springs water supply also seems to be drying up and a solution needs to be found for this puzzle.
The narrative rockets along. Alice-Miranda's innate goodness didn't annoy me because she is able to bring out the best in everyone. Her privileged background didn't intrude. Her skills at dealing with everyone she comes across works in this context. The whole concept really is quite improbable with just one group having to cope with such an array of adventures, but it works in novel form. Harvey has found a great formula with mainly well-rounded characters and continues to write fun stories.  
Reviewed by Maureen Mann