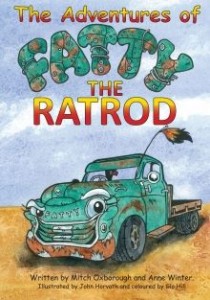 HORVATH, John (illus.) Mitch Oxborough & Anne Winter (text) The Adventures of Fatty the Ratrod Mitch Oxborough, 2013 unpaged $25.00 ISBN 9780987462503
Fatty the Ratrod is a 1951 Dodge Fargo truck, typical of the era with its big bulbous bonnet and bodywork.  Proud of its forty years of service, it now rusts forlornly out in the paddock, displaced by a big shiny haughty new truck.  Suggesting the adages 'Beauty is in the eye of the beholder' and 'One man's trash is another man's treasure', Fatty is rescued from the scrap heap by a pair of young rock and rollers and restored to serviceable order.  She is transformed from a farm truck into a ratrod – in automotive jargon, a less-finished type of hotrod.  'Her farming days are done … her days are (now) filled with fun'.
Fatty the Ratrod recalls the popular classic picture book stories of personified machines such as Little Toot and Mike Mulligan and His Steam Shovel; superseded machines proving their worth and regaining pride in new roles against newer, bigger, smarter counterparts.  It stands well among such company.  Fatty's sad tale is related in jaunty rhyming verse which makes for entertaining read-aloud sessions with young readers.  The strongly defined illustration, aptly grounded in an agricultural palette, is competent in execution and accomplished in characterization; Fatty's spirit progressively rises and she fairly glows with pride by the end, complete with chic patches of rust on the green buffed duco.  A charming little tale.
reviewed by Kevin Steinberger