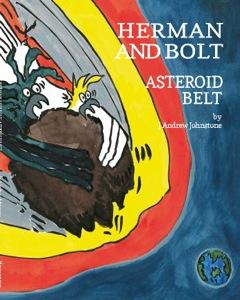 JOHNSTONE, J. Andrew Herman and Bolt: Asteroid Belt Voices and Effect: Mangoesnanas, 2013 unpaged $17.95 pbk IBSN 9780646556055
Sulphur-crested cockatoo Herman (the smart one?) and black cockatoo Bolt are quietly sitting on a tree branch watching the night sky, when an asteroid crashes on top of Bolt.  Although battered, dazed and confused he soon demonstrates some amazing new powers, but sadly, they don't last long and he reverts to his former inarticulate self.
With vibrantly colourful, bold and splashy illustrations conveying movement and action, this story has the potential of being very funny, but misses the mark with its rather confused intentions.  The author seemingly has attempted a rhyming text, but has produced an unpredictable flow of scansion and rhythm.  Trying to read it as a rhyme proved distracting for this reviewer, as sometimes it worked, and other times not.  It is difficult to predict who is the intended audience – possible cartooning, primary school boys?  The penultimate double page spread is hilarious, capturing the mad cockatoos at the end of a madcap adventure.
reviewed by Chloë Mauger