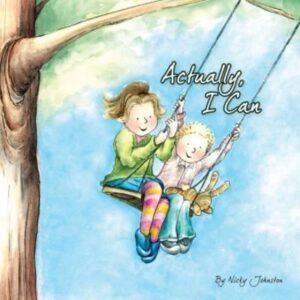 JOHNSTON, Nicky Actually, I Can Rough Draft, 2013 unpaged $16.95 pbk ISBN 9780987092670 SCIS 1650948
Here is a brightly illustrated, well written picture book designed to help children whose negative feelings stop them having fun.  The characters are Amelia, who is imaginative, confident, adventurous and brave, and Connor who is shy, timid, thoughtful and obedient.  As a mother and teacher, I think Connor sounds like a great kid and Amelia sounds like she would need a lot of extra supervision.  However, the story tells its readers how Connor didn't like trying new things because he was worried about making mistakes and that he wished he could be more like Amelia.
Connor's fears also make him bite his nails, feel queasy, shiver and worst of all get called a 'worry bunny' by Amelia – all very unpleasant.  Fortunately, a happy ending awaits both Connor and Amelia and even Lizzy, whom you will learn more about in the last part of the book, which is suitable for children aged from three to six.
reviewed by Katy Gerner