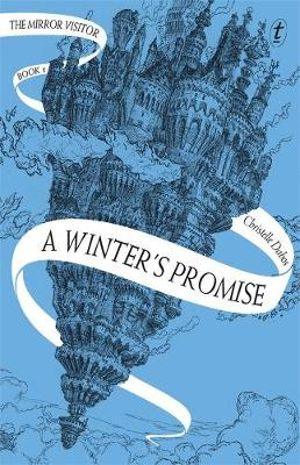 Christelle Dabos, A Winter's Promise (The Mirror Visitor #1), Text Publishing Co., October 2018, 496 pp., RRP $22.99 (pbk), ISBN 9781925603828
Ophelia possesses two special gifts: the ability to read the pasts of objects and to travel through mirrors.  Her peaceful existence on the ark of Anima is interrupted when she is promised in marriage to Thorn, a member of a powerful clan from a distant ark, the cold and icy Pole. Ophelia must follow her fiancé to the floating city of Citaceleste, where nobody can be trusted. In the company of her inscrutable future husband, Ophelia realises she is a pawn in a plot that will have consequences not only for her, but for her entire world…
A Winter's Promise is the kind of book that you simply can't put down once you pick it up.  Dabos has crafted something truly exquisite here – a story so rich and intricate, so full of magic and wonder that it draws you in and spellbinds you immediately.
Ophelia is the hero of the tale – she runs a museum, she's shy and awkward, honest and insightful, and as the reader we are drawn to her at once.  We assume the story is set on our world, but after some kind of apocalyptic event has taken place (referred to only as "The Rupture").  It's never revealed just what happened, perhaps that will be explained later in the series, but this event has left the planet's denizens with strange magical abilities and living on floating land-masses called Arks where there is a strict clan system, and arranged marriages are common practice.  We sympathise with Ophelia's misgivings, but her sense of duty (and curiosity) carries us into new worlds previously undreamt of.
Dabos writes beautifully – perhaps some of the richness of the language might have been lost in the translation from the original French into English, but it has proven no impediment to the power of this startling narrative.  Her descriptions re lavishly beautiful and her characterisations are startlingly moving and real.  The magic permeates each line of Dabos's writing, and so it seems only natural to believe that someone could travel from place to place via mirrors; or that entire palaces could be made of cunning illusions; or that immortal Family Spirits could conspire and manipulate generations of their offspring.  This is a masterful work by a truly gifted author.
Some of the themes in this book are of a more mature nature so I would recommend for mid to late teen readers (15-18 and over).  For myself, I'm eagerly awaiting book 2 and cannot wait to step through the mirror into Ophelia's world once more.
Reviewed by Christian Price